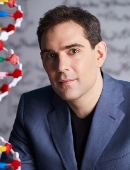 Adam A Margolin, PhD
About Me
Industry Relationships
About Me
Dr. Margolin is a recognized leader in developing machine learning algorithms to analyze large-scale molecular datasets, to predict therapies specific for an individual patient, and to infer the key cellular processes that underlie cancer drug susceptibility and other clinically relevant phenotypes. He is a passionate advocate of highly collaborative team-based research, and has developed software systems to enable collaborative analysis for several of the largest national and international projects in cancer genomics, cancer immunotherapy, stem cell research, and pediatric diseases.
As Chair of the Department of Genetics and Genomic Sciences, Dr. Margolin oversees a vibrant enterprise that is ranked fourth nationally among medical schools in National Institutes of Health funding for genetics research. The Department's research encompasses the basic mechanisms of genetic regulation, translational genomics research, and genomic medicine. Additionally, the Department operates an internationally-renowned medical genetics faculty practice and trains clinical fellows. As Director of the Icahn Institute for Data Science and Genomic Technology, Dr. Margolin leads a world-class computational genomics Institute focused on integrating the digital universe of biomedical data to advance discovery and delivery of revolutionary treatments.
In his role as Senior Associate Dean for Precision Medicine, Dr. Margolin works closely with other senior leaders to accelerate Mount Sinai's commanding Precision Medicine program. Precision medicine, a major component of the ISMMS Strategic Plan, presents an opportunity to revolutionize the delivery of health care by customizing disease diagnosis, treatment, and prevention to individual patient needs.
Before joining Mount Sinai, Dr. Margolin served as Director of Computational Biology and Professor of Biomedical Engineering with Oregon Health & Science University, where he led the University's computational research and informatics software development programs. Prior to that, Dr. Margolin was the Director of Computational Biology at Sage Bionetworks in Seattle. He also worked at the Broad Institute of Harvard and the Massachusetts Institute of Technology, leading an effort to leverage large-scale cancer genomics datasets to infer genotype-specific therapeutics in human tumors.
Dr. Margolin earned his MS in Computer Science from the School of Engineering at the University of Pennsylvania, and his PhD in Biomedical Informatics from Columbia University.
Language