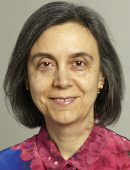 Adilia Hormigo, MD, PhD
About Me
Education & Certifications
Awards
Research
Locations
Publications
About Me
Adilia Hormigo, MD, PhD is Professor in the Department of Neurology, Medicine (Division of Hematology-Oncology), and Neurosurgery. She is a neuro-oncologist specializing in the care of patients with primary brain tumors, CNS metastases, and the neurological complications of cancer and its treatment. She employs a multidisciplinary team approach to ensure that patients receive compassionate, comprehensive care.
Dr. Hormigo obtained her MD with honors from the University of Lisbon Medical School in Portugal, and her PhD from New York University. She completed residencies in Neurology at the University Hospital of Lisbon Medical School, Portuguese Oncological Institute and New York Presbyterian-Weill Medical College of Cornell University and Memorial Sloan-Kettering Cancer Center. She completed both research and clinical neuro-oncology fellowships under Jerome B. Posner. She served as faculty at Memorial Sloan-Kettering Cancer Center and Cornell University. She trained a number of fellows, many of whom are faculty in leading programs of neuro-oncology in the country and abroad.
Her clinical and translational research focuses on new strategies including personalized treatment for patients with brain tumors with emphasis on immunotherapy, developing new biomarkers and studying the microenvironment of brain tumors. Her goal is to achieve the highest level of patient care and clinical excellence.
Language
Position
PROFESSOR | Neurosurgery, PROFESSOR | Medicine, PROFESSOR | Neurology