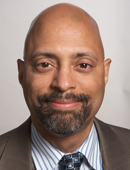 Albert G Thomas, MD
About Me
Research
Publications
About Me
Dr. Albert George Thomas is an Associate Professor of Obstetrics and Gynecology and Senior Consultant of Family Planning Services at the Mount Sinai Medical Center in New York City.

He is also Chief of Obstetrics and Gynecology at North General Hospital in Harlem, Chief of Gynecology at the Bronx Veterans Administration Medical Center, and Medical Director of "The Door," a well known Adolescent Health Center in SoHo, committed to caring for NYC's neediest adolescents.

Dr. Thomas serves as a board member for several healthcare advocacy groups such as Planned Parenthood of NYC (PPNYC) and (PRCH) Physicians for Reproductive Choice and Health. He serves on the NYC Planned Parenthood Medical Advisory Board, is Chair of the New York County Medical Society Medical Economics Committee, and is Chair of the Data Collection Committee of the Health Disparities Committee of the Medical Society of New York State (MSSNY).

In addition, Dr. Thomas is a consultant for gynecological services at the North General Hospital Center for Special Services, a comprehensive HIV program. He is also the GYN consultant for the Ralph Lauren Center for Cancer Care and Prevention a joint venture of Memorial Sloane Kettering and North General Hospital.

For more than 20 years, Dr. Thomas has practiced general Gynecology and Obstetrics on the Upper East Side, of New York City, caring for thousands of women and attending to their newborn infants. A future goal is to expand his unique practice of general gynecologic care throughout the City to those most in need of healthcare education and care.
Language
Position
ASSOCIATE PROFESSOR | Obstetrics, Gynecology and Reproductive Science, ASSOCIATE PROFESSOR | Medicine, Infectious Diseases