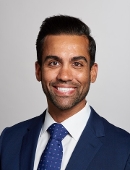 Alexander S Somwaru, MD
About Me
Alexander S. Somwaru, M.D. is a board-certified, fellowship-trained radiologist. He is an Assistant Professor in the Division of Body Imaging in the Department of Radiology at the Icahn School of Medicine at Mount Sinai. He is also the Director of Quality for Mount Sinai Downtown for the Department of Radiology.
Dr. Somwaru is a graduate of the University of Pennsylvania and attended medical school at The George Washington Univesity. He completed his residency at the University of Texas and fellowship in body imaging at Johns Hopkins Hospital. Prior to joining Mount Sinai, Dr. Somwaru was an Assistant Professor at Georgetown University Hospital for four years, where he was unanimously recognized by the entire Department of Radiology as the Teacher of the Year in 2018.
Dr. Somwaru's areas of clinical expertise are MR and CT imaging of the gastrointestinal tract, MR imaging of prostate cancer, and transplant imaging. He is actively involved in the education of medical students and residents. Dr. Somwaru conducts clinical research that has resulted in numerous exhibits at national and international conferences, which have earned several awards, multiple peer-reviewed publications, and a book chapter. What Dr. Somwaru takes the most pride in is applying clinical knowledge that allows him to serve his patients and maintain their safety.
Language
Position
ASSISTANT PROFESSOR | Diagnostic, Molecular and Interventional Radiology