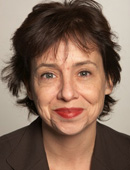 Alison D Schecter, MD
About Me
Research
Industry Relationships
About Me
Dr. Schecter received a B.A. from Mount Holyoke College and her medical doctoral degree from SUNY Health Science Center at Brooklyn in 1990. She completed internal medicine internship and residency (1990-1993) at Johns Hopkins Hospital and cardiology fellowship at Massachusetts General Hospital in 1993-1994 and Mount Sinsia School of Medicine in 1994-1996.
Dr. Schecter is the co-founder of the Women's CARE program (Cardiac Evaluation and Risk Assessment Program), which was created at Mount Sinai out of Dr. Schecter's interest in women's cardiac prevention. In connection with her interest in women's cardiac prevention, Dr. Schecter has appeared on numerous network and cable television stations such as CBS, ABC and the Oxygen Network,in an effort to impact on the education of laypeople about lifestyle modifications that could be potentially life saving.
In the News
Dr. Schecter discusses sleep apnea in The Daily News feature The Daily Check Up. View the PDF.
Language
Position
ADJUNCT ASSOCIATE PROFESSOR | Medicine, Cardiology