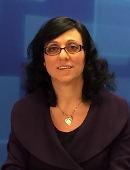 Aliza B Ben-Zacharia, MSc, DNP
About Me
Clinical Focus
Locations
Industry Relationships
About Me
Aliza Ben-Zacharia, DNP, ANP-BC Neurology assistant professor, is dual board-certified, acute care nurse practitioner (NP) by ANCC & adult NP by the Academy of NPs. Dr. Ben-Zacharia is an NP with experience in acute care, neurology and rehabilitation. In 2010, she earned a doctorate degree in nursing practice from Case Western Reserve University. In 2014, she has earned a master degree in nutrition from Columbia University.
Dr. Ben-Zacharia provides direct patient care, follow-up, training/education and counseling for patients with multiple sclerosis (MS) and their families. She is the principal investigator (PI) of multiple clinical trials about the use of technology in MS, body mass index (BMI) and progression of MS, association between BMI and brain volume and cognition in MS, quality of life, screening for depression in MS and palliative care/end of life issues in MS. Dr. Ben-Zacharia is on the Internal Review Board (IRB) at the Icahn School of Medicine at Mount Sinai Hospital.
A skilled educator, Dr. Ben-Zacharia has developed multiple educational programs for patients and professionals and has published articles and chapters about multiple sclerosis, disease-modifying agents, symptom management, and palliative care. She is a certified MS nurse, and is the president of the International Organization of Multiple Sclerosis Nurses (IOMSN) 2018-2020. She is on the advisory board of MS Perspectives, a quarterly magazine for patients with MS and their families. Dr. Ben-Zacharia has been appointed in January 2018 as the Associate Director of the Nursing Research and Innovation Center at the Mount Sinai Hospital. Dr. Aliza Ben-Zacharia has won a few awards for her excellence in rehabilitation and Neurology/MS from Mount Sinai Hospital, recognition of her educational role by the Hall of Fame, the National Multiple Sclerosis Society, and in 2015, she won the research award from the IOMSN.
Language
Research Topics
Brain, Complimentary/Alternative/Integrative Medicine, Immunology, MRI, Multiple Sclerosis, Neuroscience, Obesity, Palliative Care, Rehabilitation, Spinal Cord
Download the CV