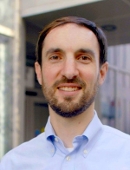 Allan C Just, PhD
About Me
Video
Awards
Locations
Publications
About Me
Allan Just, PhD is an environmental epidemiologist and serves as an Assistant Professor in the Department of Environmental Medicine and Public Health. His research interests are in children's environmental health, computational methods for epigenomics, environmental epigenomics, endocrine disrupting compounds, and air pollution modeling using satellite data. He uses large datasets, computational tools, and the methods of molecular epidemiology to investigate links between environmental exposures and children's health.
Dr. Just's R00 grant is based in the Mexico City cohort of the Programming Research in Obesity, Growth, Environment, and Social Stressors (PROGRESS) study as well as the Programming of Intergenerational Stress Mechanisms (PRISM) study. He is collaborating with the National Institute of Public Health, Mexico on a grant from the Mexican National Council of Science and Technology (CONACyT) that addresses air pollution and health using the Mexican National Health and Nutrition Examination Survey (ENSANUT). He is also in the coordinating groups for several epigenomic meta-analyses as part of the Prenatal and Childhood Epigenetics (PACE) consortium and the Cohorts for Heart and Aging Research in Genomic Epidemiology (CHARGE) consortium.
Dr. Just received his PhD in Environmental Health Sciences from Columbia University in 2012. Since 2012 he completed a postdoctoral fellowship in Environmental Epigenetics at the Harvard T.H. Chan School of Public Health, before joining the Icahn School of Medicine at Mount Sinai in September of 2015. Dr Just is a past recipient of an EPA STAR graduate fellowship for his dissertation work on phthalate mixtures and children's respiratory health and was awarded a K99/R00 grant from the National Institute of Environmental Health Sciences entitled "Prenatal Exposure to Endocrine Disrupters, DNA Methylation, and Childhood Obesity" (R00ES023450).
Language
Position
ASSISTANT PROFESSOR | Environmental Medicine & Public Health
Research Topics
Epigenetics, Molecular Epidemiology