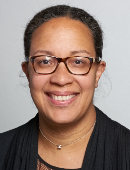 Allegra A Cummings, MD
About Me
Awards
Publications
Patient Experience Rating
About Me
Allegra Cummings, MD, is a board certified obstetrician-gynecologist and an Assistant Professor in the Department of Obstetrics, Gynecology and Reproductive Science at the Icahn School of Medicine at Mount Sinai. She has maintained a thriving office practice at Mount Sinai West and Mount Sinai Morningside since 2002. While she is interested in all aspects of the specialty, she has a special interest in supporting women who choose vaginal birth after cesarean section (VBAC).
Dr. Cummings received her undergraduate education at Barnard College, Columbia University, in New York City. She earned her medical degree from Albert Einstein College of Medicine in the Bronx and was active in the Student National Medical Association, serving as Regional Director for New York and New Jersey. Dr. Cummings completed her residency in obstetrics and gynecology at Mount Sinai St. Luke's and Mount Sinai West. During her residency she was awarded the David B. Crawford Prize for professionalism and leadership. She also was a finalist for a teaching award presented by the medical students at Columbia University. In 2011, while Dr. Cummings was a faculty attending, the obstetrics and gynecology residents at Mount Sinai St. Luke's and Mount Sinai West chose her as their best teacher, and she is the recipient of the National Faculty Award of the American College of Obstetricians and Gynecologists.
Dr. Cummings is fluent in English and Spanish.
Language
Position
ASSISTANT PROFESSOR | Obstetrics, Gynecology and Reproductive Science