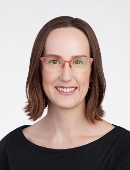 Allison Bond, PhD
About Me
Education & Certifications
Awards
Research
Locations
About Me
Dr. Allison Bond joined the Department of Neuroscience as an Assistant Professor in 2023. Her lab combines neuroscience, stem cell biology and developmental biology to study neural stem cells in the hippocamous across the lifespan. Research in the Bond Lab focuses on how developmental changes in the extracellular environment or niche impact neural stem cell function. The goal of the lab is to uncover the endogenous programs that regulate stem cell capacity across the lifespan in vivo so that we can successfully target the brain's innate plasticity for therapeutic purposes
Before joining the Mount Sinai faculty, Dr. Bond completed her postdoc in Dr. Hongjun Song's lab at Johns Hopkins and then at the University of Pennsylvania where she explored the link between neural stem cells in development and adulthood. Prior to that, Dr. Bond received her Ph.D. in Neuroscience from Northwestern University where she worked in Dr. Jack Kessler's lab studying extracellular signaling mechanisms that regulate neural stem cells and neurogenesis in the adult hippocampus.
Dr. Bond strongly believes that people are the foundation of excellent science and aims to create a supportive and inclusive mentoring environment for all trainees.
For more information about Dr. Bond, visit https://www.thebondlab.com/.
For a complete list of Dr. Bond's publications, visit https://www.ncbi.nlm.nih.gov/myncbi/allison.bond.1/bibliography/public/.
Language
Position
ASSISTANT PROFESSOR | Neuroscience, ASSISTANT PROFESSOR | Cell, Developmental & Regenerative Biology
Research Topics
Brain, Cell Biology, Developmental Biology, Developmental Neurobiology, Hippocampus, Morphogenesis, Neuroscience, Regeneration, Stem Cells
Multi-Disciplinary Training Areas
Development Regeneration and Stem Cells [DRS], Neuroscience [NEU]