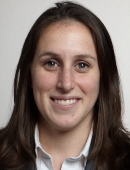 Mount Sinai Doctors
Accepting New Patients
Ami Norris-Brilliant, PsyD
Psychology
No Patient Experience Ratings
Book an Appointment
About Me
Clinical Focus
Education & Certifications
Research
Locations
Insurance
Industry Relationships
About Me
Dr. Ami Norris-Brilliant is an Assistant Professor of Psychiatry. She is a New York State licensed clinical neuropsychologist. She graduated from the Ferkauf School of Psychology with a combined doctorate in clinical and school psychology. She completed her clinical internship at the Rusk Institute of Rehabilitation Medicine at NYU Langone Hospital. She completed a two year post-doctoral fellowship in clinical neuropsychology at Lenox Hill Hospital.
Dr. Norris-Brilliant is the clinical director of the Division of ADHD, Learning Disorders, and Related Disorders at the Icahn School of Medicine. She is also the clinical director of the Center for Pediatric Neuropsychology.
She has worked with adults, families, children, hospitals, and educators in order to facilitate better understanding of patients cognitive strengths and weakness and their effects on academic achievement/ workplace functioning. She has extensive experience assessing both children and adults. Dr. Norris-Brilliant also works closely with the department of Medical Genetics. Dr. Norris-Brilliant was proud to be a policy advisor on disabilities to the Joseph R. Biden Campaign for President in 2020.
Dr. Norris-Brilliant has also taught both psychology and educational psychology as an adjunct professor. She is a published author with publications devoted to neuropsychological assessment and ADHD. Please see below for selected highlights.
Matthews, B., Allan, C., Norris-Brilliant, A., Acri, M., & Chacko, A. (in press). Leveraging emerging workforces to increase ADHD service provision for children and families: Family Peer Advocates as an exemplar. The ADHD Report.
Norris-Brilliant, A.M.; Krone, B.; Edman, M. (2020, Aug 6-8) Disability v. Wellness Culture: Supporting High Functioning Neuro-divergent Learners in Higher Education APA Convention 2020, [Conference Presentation] Washington, DC.
Krone, B., Norris-Brilliant, A., & Lee, J. (2020, June 16). TeleMental Health and Adult ADHD: A Brief History and Current Status. Retrieved from osf.io/ypfg5
Norris-Brilliant, A.M. (2020) Parenting in a Pandemic. Icahn School of Medicine Lecture Series on Wellness. [Presentation] New York, NY
Norris-Brilliant, A.M. (2020) Tutoring Regular Education and Special Education Students: Best Practices. Goldman Sachs and Icahn School Of Medicine. [Presentation] New York, NY.
Norris-Brilliant, A.M.; Rudd-Barnard, A.; Nabozny, N.; Pramataris, P. (2012) A Comparison of Cognitive Profiles of Attention Deficit Hyperactivity Disorder Combined Type and Attention Deficit Hyperactivity Disorder Inattentive Type. Poster session presented at the annual meeting of the International Neuropsychological Society, Montreal, Canada.

Financial & Billing Information

Please direct any detailed billing or financial inquires to the Mount Sinai Psychiatry billing customer service number at 212-659-8752.
Language
Position
ASSISTANT PROFESSOR | Psychiatry
Hospital Affiliations
Mount Sinai Morningside
The Mount Sinai Hospital
Mount Sinai West