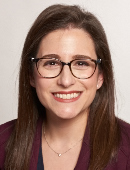 Video Visit Available
Accepting New Patients
Mount Sinai Doctors
Accepting New Patients
Amy Kontorovich, MD, PhD
Cardiovascular Disease (Heart Disease), Internal Medicine
Book an Appointment
About Me
Clinical Focus
Education & Certifications
Research
Locations
Insurance
Publications
Patient Experience Rating
Industry Relationships
About Me
Amy Rosen Kontorovich, MD, PhD is an Associate Professor of Medicine in Cardiology and Genomic Medicine at the Icahn School of Medicine at Mount Sinai and is the Director of the Center for Inherited Cardiovascular Diseases. She also serves as Medical Director of Adult Cardiovascular Genetics in the Zena and Michael A. Wiener Cardiovascular Institute and as core faculty in the Cardiovascular Research Institute.
Dr. Kontorovich received a B.S.E in Bioengineering from the University of Pennsylvania and M.D. and Ph.D. degrees through the Medical Scientist Training Program of the National Institutes of Health at Stony Brook University. She completed a residency in Internal Medicine and a fellowship in Cardiovascular Medicine at the Icahn School of Medicine at Mount Sinai, during which she received specialized training in genetics of cardiovascular diseases.
Dr. Kontorovich's clinical practice is focused on the diagnosis and management of individuals with hereditary cardiovascular conditions including:
• Aortic aneurysm
• Vascular connective tissue disorders (including Marfan syndrome, Loeys-Dietz syndrome and Ehlers-Danlos syndrome)
• Other aneurysm and/or dissections
• Hereditary hemorrhagic telangiectasia
• Hypertrophic cardiomyopathy
• Dilated cardiomyopathy
• Arrhythmogenic cardiomyopathies
• Myocarditis
• Familial rhythm disorders (including Long QT syndrome, Brugada syndrome, catecholaminergic polymorphic ventricular tachycardia and sudden cardiac death)
• Familial hypercholesterolemia
The Kontorovich Laboratory conducts translational and clinical research to further understanding of genetic relationships in cardiovascular diseases, with funding support from the National Institutes of Health, foundation and industry sponsors. The work includes investigations of a number of cardiovascular disorders from a phenotype-first or genotype-first approach, including research on the genetics of myocarditis (an inflammatory condition of the heart that can lead to sudden cardiac death and cardiomyopathy), hereditary transthyretin amyloidosis and others.

Certifications:
Cardiovascular Disease
American Board of Internal Medicine
Language
Position
ASSOCIATE PROFESSOR | Medicine, Cardiology, ASSOCIATE PROFESSOR | Medicine, Medical Genomics
Hospital Affiliations