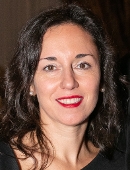 Ana Kostic, PhD
About Me
Video
Education & Certifications
Awards
Locations
About Me
Ana Kostic, PhD is an Associate Professor of Psychiatry at the Icahn School of Medicine at Mount Sinai, and the Director of Drug Discovery and Development at the Seaver Autism Center for Research and Treatment. Dr. Kostic is a clinical scientist with expertise in drug development, biomarkers, patient selection and stratification. She received her PhD and postdoctoral training in molecular and cell biology at Columbia University.

Dr. Kostic spent eleven years in the biotech/pharmaceutical industry prior to joining Mount Sinai. She worked in various roles across preclinical, clinical and precision medicine at Regeneron Pharmaceuticals and as Senior Director of Translational Medicine at Kiniksa Pharmaceuticals.

The main focus of Dr. Kostic's research at Mount Sinai is to identify potential drug candidates for treatment of autism, design experimental strategies for testing in neuronal cell systems and animal models, as well as to discover and validate molecular biomarkers in autism. Specifically, her group is interested in ADNP, DDX3X, FOXP1, and Phelan-McDermid syndromes, common single-gene causes of autism.

Dr. Kostic co-leads collaborations between the Seaver Autism Center and several pharmaceutical companies as well as with other academic groups. The main goal of these collaborations is to build a drug discovery pipeline and enable testing of existing drug candidates. Current partners include Scripps Florida, Rumi Scientific, Oryzon and NeuCyte.
Language
Position
ASSOCIATE PROFESSOR | Psychiatry