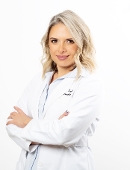 Ana Maria Kausel
About Me
Industry Relationships
About Me
Ana Maria Kausel, MD, a leading endocrinologist with a particular interest in diabetes, obesity, and metabolic disorders, offers compassionate, patient-focused care at her practice in Chelsea, New York City. She provides customized attention to help her patients restore their health and well-being.
Dr. Kausel was born in Colombia and is fluent in English and Spanish. After earning her medical degree at Fundación Universitaria San Martín Facultad de Medicina, in Bogota, Colombia, she moved to the United States to advance her medical training in New York City. Dr. Kausel first served her residency in internal medicine at St. Luke's-Roosevelt Hospital Center. She went on to complete rigorous fellowship training in endocrinology at Mount Sinai St. Luke's hospital and geriatrics at St. Luke's-Roosevelt Hospital Center.
Dr. Kausel is board-certified in endocrinology, diabetes, and metabolism by the American Board of Internal Medicine. She's also a member of the American Association of Clinical Endocrinologists and the Endocrine Society.
Dr. Kausel uses her extensive medical knowledge and approachable and friendly bedside manner to offer highly personalized care. She takes time to get to know her patients, learning about their lifestyles and overall health as well as their symptoms.
Language