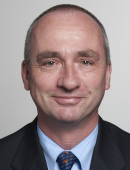 Andrew C Todd, PhD
About Me
Education & Certifications
Research
Locations
Publications
About Me
Professor Todd measures lead in bone to assess cumulative lead exposure; directs the Insulators' Tissue Bank, an asbestos-related disease research biorepository he developed for the Heat and Frost Insulators & Allied Workers union; and is the Director of the CDC/NIOSH World Trade Center Health Program General Responder Data Center at Mount Sinai that manages WTCHP data for over 50,000 general responders involved in the rescue and recovery effort that followed the attacks on 9/11.
Professor Todd is a Ph.D. physicist who has developed, used and made widely accessible, noninvasive in vivo X-Ray Fluorescence to assess cumulative lead exposure, both in epidemiological studies of human health effects and in cases referred to him globally. He has been a faculty member at Mount Sinai since 1992 and was granted tenure in 2023. He remains an Adjunct Associate Professor at the Johns Hopkins University, Bloomberg School of Public Health.
As Principal Investigator of numerous NIH-funded studies and a co-investigator on many others, Professor Todd's research has centered on both the development of in vivo bone lead measurements for the assessment of long-term lead exposure and on the application of those techniques to studies of human health research. This work has been performed across the US and in several countries around the world, resulting in nearly 200 peer-reviewed publications. He has reviewed for the National Institutes of Health and the American Public Health Association, and for Environmental Research, Environmental Health Perspectives, JAMA (Journal of the American Medical Association), Medical Physics and Physics in Medicine and Biology. He is a Contributing Editor with the American Journal of Industrial Medicine.
In the aftermath of the WTC attacks, Professor Todd led all non-medical aspects of the continued provision of medical evaluation and subsequent treatment of WTC rescue and recovery workers. His compelling grant application to site the WTC General Responder Data Center at Mount Sinai was awarded in 2002, in which all data acquisition, structure, security and management are provided for the entire WTC Medical Consortium. Professor Todd is the Director of this Center at Mount Sinai.
Professor Todd also developed, obtained funding for and now directs a N. American tissue collection effort for lung cancer and mesothelioma in asbestos-exposed workers and their families. He also works with the insulators union on other health and safety matters.
Language
Position
PROFESSOR | Environmental Medicine & Public Health