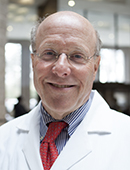 Andrew Stewart, MD
About Me
Education & Certifications
Research
Locations
Publications
About Me
Andrew Fyfe Stewart, M.D.
Director,Diabetes, Obesity and Metabolism Institute
Irene and Dr. Arthur M Fishberg Professor
Icahn School of Medicine at Mount Sinai
New York, NY
Dr. Andrew Stewart has led a career devoted to patient care and basic and clinical research in endocrinology and diabetes research for over 40 years. He received his bachelor's degree from Trinity College in Hartford, Connecticut and his M.D. from Columbia University, College of Physicians and Surgeons, New York, New York. He served as a fellow in Endocrinology and Metabolism at Yale University School of Medicine in Connecticut, rising to the rank of tenured Professor at Yale. He moved to Pittsburgh in 1997 to become Chief of the Division of Endocrinology and Metabolism at the University of Pittsburgh School of Medicine. He moved to New York to serve as the Director of the Diabetes, Obesity and Metabolism Institute at Mount Sinai in November 2012.
Dr. Stewart is a leading authority on human pancreatic beta cell replication and regeneration. His research focuses on understanding and developing novel means for inducing human beta cell regeneration for people with Type 1 and Type 2 Diabetes. His group was the first to demonstrate that growth factors could drive beta cell replication in vivo in mammals, and also improve glucose control in living animals, and the first to carefully define cell cycle control in the rodent and human beta cell. His group described the first effective drug combinations that are able to induce high rates of human beta cell proliferation and mass expansion, currently making their way to clinical trials. This work is the subject of invited symposia at both the American Diabetes Association (ADA), the European Islet Study Group (ISG), the European Association for the Study of Diabetes (EASD), the International Congress of Endocrinology, and the US National Institutes of Health, and is supported by multiple patents.
He has received numerous honors, including: Councilor of both the Endocrine Society as well as the American Society for Bone and Mineral Research (ASBMR); Secretary-Treasurer of the Endocrine Society; Chair of the Program Committee for the ADA; the Chair of the American Diabetes Association Annual Meetings for 2010 and 2011. He has published more than 250 scientific papers, with many in journals of the highest quality, including the New England Journal of Medicine, Science, Nature Medicine, Cell Metabolism, The Journal of Clinical Investigation, Science Translational Medicine, The Proceedings of the National Academy of Sciences, and others. Dr. Stewart has been the continuous recipient of research grants for 40 years, and currently holds multiple grants from the NIH. He has served on and chaired grant review panels for the NIH, the ADA and the JDRF. Finally, Dr. Stewart has won many awards, including the 2008 Endocrine Society Gerald Aurbach Award for outstanding scientific achievement, the 2014 RayKroc Award, and the 2022 City of Hope Arthur Riggs Award for Advances in diabetes research.

Language
Position
DIRECTOR, DIABETES OBESITY AND METABOLISM INSTITUTE, PROFESSOR | Medicine, Endocrinology, Diabetes and Bone Disease
Research Topics
Autoimmunity, Cell Biology, Cell Cycle, Cell Division, Cellular Differentiation, DNA Replication, Diabetes, Gene Discovery, Gene Expressions, Gene Therapy, Genomics, Growth Factors and Receptors, Hormones, Immunosuppression, Insulin, Knockout Mice, Obesity, Oncogenes, Phosphorylation, Protein Kinases, Proteomics, Receptors, Transgenic Mice, Transplantation, Tumor Suppressor Genes
Multi-Disciplinary Training Areas
Genetics and Genomic Sciences [GGS]