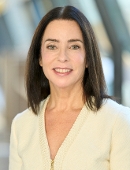 Mount Sinai Doctors
Accepting New Patients
Angela Bianco, MD
Obstetrics and Gynecology (OBGYN), Maternal and Fetal Medicine
Book an Appointment
About Me
Education & Certifications
Awards
Research
Locations
Insurance
Publications
Patient Experience Rating
Industry Relationships
About Me
Angela Bianco, MD, is a board-certified maternal-fetal medicine specialist and System Director of Maternal-Fetal Medicine in the Raquel and Jaime Gilinski Department of Obstetrics, Gynecology and Reproductive Science at the Icahn School of Medicine at Mount Sinai. Dr. Bianco also serves as Maternal-Fetal Medicine Fellowship Director at The Mount Sinai Hospital and is a Professor in the Department of OB/GYN at Icahn Mount Sinai.
Dr. Bianco joined Mount Sinai in 2009 as an attending physician in the Division of Maternal-Fetal Medicine. Most recently, she served as System Director of Obstetrics and held the position of Medical Director of Labor and Delivery at The Mount Sinai Hospital. She also was Associate Fellowship Director of Maternal-Fetal Medicine.
Dr. Bianco is a recognized leader in women's health as well as fetal imaging. She has been actively involved in clinical research, conducting randomized trials to increase knowledge around the imperative issues of safe labor induction and reducing surgical site infections in patients undergoing Cesarean deliveries. She also has led the implementation of technological advances that have enhanced overall patient safety and obstetric outcomes. Dr. Bianco led the Obstetric service's response to the COVID-19 pandemic with a focus on safe delivery for mothers and newborns. She has authored multiple publications regarding the impact of COVID-19 on pregnancy outcomes.
Dr. Bianco earned her medical degree with honors from Pennsylvania College of Medicine and completed her residency in obstetrics and gynecology at New York University Medical Center. She went on to complete a fellowship in maternal-fetal medicine at Mount Sinai.
Dr. Bianco is grateful to participate in the care of women with challenging pregnancies and will never tire from the joy she experiences at the time of handing her patients their precious newborns.
Dr. Bianco's clinical interests include: Invasive prenatal diagnosis including CVS, amniocentesis and fetal blood transfusions; complex pregnancies with pre-existing medical conditions; placenta accreta spectrum disorders; very advanced maternal age; prematurity prevention; surgical complications in pregnancy; multiple gestations; IVF and pregnancy outcomes.
Language
Position
PROFESSOR | Obstetrics, Gynecology and Reproductive Science
Hospital Affiliations
Mount Sinai Morningside
Mount Sinai Beth Israel
The Derfner Foundation Ambulatory Surgery Center
Mount Sinai Brooklyn
Mount Sinai Queens
The Mount Sinai Hospital
Mount Sinai West