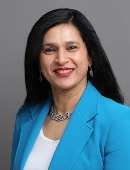 Video Visit Available
Accepting New Patients
Mount Sinai Doctors
Accepting New Patients
Annapoorna S Kini, MD
Interventional Cardiology, Cardiovascular Disease (Heart Disease), Cardiology (Heart)
Book an Appointment
About Me
Clinical Focus
Education & Certifications
Locations
Insurance
Publications
Patient Experience Rating
Industry Relationships
About Me
Dr. Annapoorna S. Kini, Interventional Director of Structural Heart Program at Mount Sinai Hospital, high volume operator (the highest number of procedures by a female interventionalist in the United States) with extremely low complication rate, less than 0.5 percent. She is well known for performing the complex coronary interventions such as chronic total occlusion (CTO), bifurcation stenting, and atherectomy of calcified lesions with with utmost safety and excellent long-term results. Dr. Kini also specializes in the non-coronary interventions of mitral and aortic balloon valvuloplasty, and alcohol septal ablation for obstructive hypertrophic cardiomyopathy.
As Director of the The Cardiac Catheterization Laboratory at The Mount Sinai Hospital she is responsible for day-to-day smooth functioning of a very high volume Cardiac Cath Lab which performs more than 15,000 total procedures including 5,200 interventions. Dr. Kini also serves as the Director of Interventional Cardiology Fellowship Program involving seven-to-nine fellows from the United States and overseas. Mount Sinai fellowship is one of the largest and Dr. Kini is responsible for selection and training of these fellows.
Dr. Kini played a key role in starting the Live Symposium of Complex Coronary Cases in 1998, which has had overwhelming success every year by performing live complex coronary cases. She is the director of the live monthly and bi-monthly webcast series titled, Complex Coronary Cases and Structural Heart Live Cases. These live cases are broadcast to over 131 countries and receive over 7,000 page views.
Dr. Kini is widely published on various topics of Interventional Cardiology, including peri-procedural enzyme elevations, rotational atheretomy, other newer devices, contrast nephropathy, and valvuloplasties. She has authored numerous book chapters in the field of acute coronary syndrome and coronary interventions. She serves as the site Principal Investigator for numerous multicenter trials including NIH sponsored trials. She maintains a large interventional database of more than 45,000 PCI patients, which helps in analysis and publications of short and long term outcomes after all kinds of coronary interventions.
She is the recipient of 2011 Dean's Award for Excellence in Clinical Medicine at The Mount Sinai Medical Center. She also received the Physician of the year award in 2014 by the Mount Sinai Hospital nurses. She received the Excellence in Medicine Award by the National Association of Physicians of India (AAPI) in July 2016. She received the prestigious, Ellis Island Medal of Honor in May 2017, which is the highest award given to any immigrant civilian. She is the recipient of AHA "The Heart of Gold Award", June 2018 and Jacobi Medallion Award 2019 for Breakthroughs in Clinical Care. Dr. Kini was selected by the American College of Cardiology to receive the 2020 Gifted Educator Award in recognition ofher innovative, outstanding teaching characteristics, and compassionate qualities.
Dr. Kini received her medical degree from Kasurba Medical College, Mangalore, India. She was the best outgoing student having received three honors and gold medals. She then strengthened her clinical cardiology training in England and became the member of the Royal College of Physicians of London.
Language
English, Indian (Hindi), Spanish
Position
PROFESSOR | Medicine, Cardiology
Hospital Affiliations