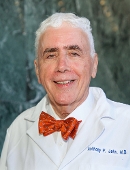 Video Visit Available
Accepting New Patients
Mount Sinai Doctors
Accepting New Patients
Anthony F Jahn, MD
Ear, Nose, Throat (ENT) / Otolaryngology
Book an Appointment
About Me
Clinical Focus
Video
Education & Certifications
Locations
Insurance
Patient Experience Rating
Industry Relationships
About Me
Dr. Anthony Jahn is a senior clinical and academic otolaryngologist with special expertise in diseases of the ear and disorders of hearing and balance, as well as care of the professional voice. Dr. Jahn completed his training at the University of Toronto, and is board certified in both Canada and the U.S. His first academic appointment was in 1979 at Columbia University, as clinical otolaryngologist and co-director of the Dizziness Clinic. In 1983, he was invited to take over as Director of Otolaryngology and Resident Training at the University of Medicine and Dentistry of New Jersey. In 1992, he returned to New York, and is currently Director of Otology and Neurotology at Mount Sinai West Hospital. He has written and edited several widely read books on otology, including Physiology of the Ear and Atlas of Ear Diseases.
Dr. Jahn is also well known as a laryngologist with a focus on the care of the professional voice. He is Director of Medical Services at the Metropolitan Opera, and consultant to the Juilliard School, St. Thomas Choir school, and Westminster Choir College (Princeton). His clinical practice includes many prominent singers from the operatic and pop musical world. He has written extensively on the voice, including numerous articles and books. His book, Care of the Professional Voice, was recently translated and re-published in Japan.
As an international speaker and teacher, Dr. Jahn has lectured on four continents about ear and voice disorders. He has taught courses on ear surgery in Thailand and Myanmar, and has worked as a volunteer surgeon in several Southeast Asian countries. He has published more than 100 papers and chapters on topics in otology and laryngology. Among his innovations is a long-term ventilation tube to treat chronic Eustachian tube dysfunction. His interest in complementary medicine has led to the incorporation of acupuncture in his clinical practice, and he has taught several courses on acupuncture to otolaryngologists at national meetings of the American Academy of Otolaryngology/Head and Neck Surgery.
Further information on Dr. Jahn's work is available on his website, www.earandvoicedoctor.com.
Language
Position
PROFESSOR | Otolaryngology
Hospital Affiliations
The Mount Sinai Hospital
Mount Sinai Morningside and Mount Sinai West