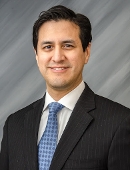 Anthony Garcia, MD
About Me
Industry Relationships
About Me
Dr. Anthony Garcia started practicing Cardiology in 2013 and joined Mount Sinai in 2021. He began his education at the Massachusetts Institute of Technology, where he gained a special appreciation for the complicated mechanical and electrical interplay central to the cardiovascular system. After graduating his undergraduate studies, Dr. Garcia followed the intellectual appeal of cardiovascular medicine into his medical education at Tufts University School of Medicine. He then went on to Boston University Medical Center for both his internship and residency in Internal Medicine, where he served as Chief Resident during his final year. To complete his training, Dr. Garcia moved to the University of Massachusetts Memorial Medical Center for his fellowship in Cardiovascular Medicine. With his board certifications in Internal Medicine, Cardiovascular Disease, Nuclear Cardiology, and Echocardiography, Dr. Garcia specializes in the bedside detection of complex physiology through the signature form of heart sounds.
In addition to his clinical work, Dr. Garcia has authored multiple peer-reviewed publications, as well as a McGraw-Hill chapter manuscript on Echocardiography. He is also multilingual, and can communicate in English, German, French, and Spanish with his patients.
Dr. Garcia's love for medicine developed early in his life. While watching his own family members recover from serious illness, Dr. Garcia witnessed how a physician who listens and empathizes can make intimidating treatment regimens more palatable. Even before going off to college, the role of a doctor came into focus as one that would bridge his love for medical knowledge with the privilege of accompanying people toward better health. Dr. Garcia was attracted to cardiology, as no other specialty seemed as intertwined with every major organ system.
Language