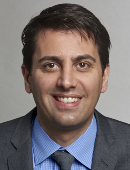 Ardeshir R Rastinehad, DO
About Me
Clinical Focus
Locations
Industry Relationships
About Me
Ardeshir (Art) Rastinehad, D.O. joined the faculty from the National Cancer Institute as an Interventional Urologic Oncologist specializing in the surgical management of prostate, kidney, adrenal, and testicular cancer. Dr. Rastinehad has expertise in a wide array of interventional radiological and surgical techniques, including image guided procedures, laparoscopic and robotic surgery. He has a faculty appointment in the Department of Radiology and Urology.guided procedures, laparoscopic and robotic surgery.
For three decades, urologists have diagnosed prostate cancer using the same methodologies. There have been no reliable imaging tools to aid in the diagnosis and currently prostate cancer is the only solid malignancy that is still diagnosed by random biopsies. Dr. Rastinehad's prostate cancer team has now incorporated state-of-the-art imaging to help visualize suspicious areas in the prostate for cancer. Dr. Rastinehad has also authored and implemented clinical trials of new techniques in the diagnosis and treatment of localized prostate cancer. Most recently, he is the principle investigator for a phase III clinical trial using MRI/Ultrasound fusion technology to improve prostate biopsy techniques. Using information from the prostate MRI, specific areascan now be targeted to better diagnose and quantify a patient's prostate cancer. This was the first trial of this technology in the United States outside the National Institutes of Health. This new clinical approach is helping to lay a foundation for the evaluation of a new technique, Focal Therapy, which only treats the diseased portion of the prostate.
Dr. Rastinehad's research has been published in leading national and international medical journals including The Journal of Urology, Journal of Radiology, Urology, and The British Journal of Urology. He has also authored several book chapters.
Dr. Rastinehad is a leader in his field of Uroradiology and Interventional Urology and has been invited to speak at many international and national meetings. He has also served as the course director for the first international course on MR US fusion guided prostate biopsies sponsored by the American Urological Association.
Dr. Rastinehad is the first urologist to practice interventional urology, which utilizes interventional techniques to treat urologic problems and is currently evaluating prostate embolization as an alternative to transurethral resection of the prostate (TURP).
Dr. Rastinehad discusses focal therapy for prostate cancer: https://www.youtube.com/watch?v=bdBkluJYWVc&feature=youtu.be
Dr. Rastinehad leads first trial of nanoparticles treatment for Prostate Cancer: https://www.mountsinai.org/files/ISMMS/Assets/Media/Profiles/Urology-Sept16.pdf
Language