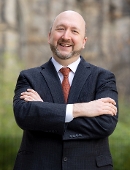 Arthur A Gianelli, FACHE, MA, MBA, MPH
About Me
Industry Relationships
About Me
Arthur Gianelli is the Chief Transformation Officer for the Mount Sinai Health System and President of Mount Sinai Morningside Hospital. He has worked for the Mount Sinai Health System since February of 2014.

As Chief Transformation Officer, Mr. Gianelli partners with leaders across the Mount Sinai Health System to improve patient experience, create educational programs for leaders and staff, promote the deployment of lean process improvement and daily management methodologies, and advance strategies to transform Mount Sinai into an equitable and anti-racist organization.

During his tenure as President of Mount Sinai Morningside, Mr. Gianelli has helped lead the hospital's response to the COVID-19 pandemic; introduced a lean daily management system which has driven improvements in patient experience, quality and safety measures; shepherded a transformative capital improvement plan; and worked with School of Medicine leadership to grow a number of clinical programs. Under Mr. Gianelli's leadership, Mount Sinai Morningside achieved HIMSS 7 status; was recognized as 26th among the World's Smartest Hospitals by Newsweek Magazine; and saw its Cardiology and Adult Cardiac Surgery programs ranked among the top 50 in the United States by U.S. News and World Report.

From 2006 through 2014, Mr. Gianelli served as President and Chief Executive Officer of NuHealth, a public benefit corporation that runs the Nassau University Medical Center, a nursing home, and co-operates the Long Island FQHC, Inc. Under Mr. Gianelli's leadership, NuHealth earned recognition for stabilizing its finances, improving quality of care and patient outcomes, and modernizing and expanding its services and facilities.

Prior to joining NuHealth, Mr. Gianelli held senior executive positions over a 10-year period for two local governments on Long Island. He was Deputy County Executive for Budget and Finance for Nassau County, and Director of Operations for the Town of North Hempstead. He was responsible for leading fiscal turnarounds in both municipalities.

Mr. Gianelli currently serves on the Board of Directors of the Greater New York Hospital Association, Health Leads, HealthIx, and the Mount Sinai Health Partners IPA. He has previously served on the Executive Committees of Healthfirst and America's Essential Hospitals, and he was a member or Regional Policy Board 2 of the American Hospital Association. He has earned numerous professional, civic, and teaching awards, including the Healthcare Leaders of New York's 2021 Award of Distinction, which is given in recognition of sustained and outstanding contributions to the advancement of healthcare administration as a profession.

Mr. Gianelli earned a Bachelor's Degree in History from St. John's University, a Master of Arts Degree in Political Science from Brown University, a Master in Business Administration Degree from Dowling College, and a Master in Public Health Degree from Columbia University. He is a Fellow of the American College of Healthcare Executives. Mr. Gianelli teaches "Issues in Hospital Management" as well as "Managed Care and Healthcare Reform" to graduate students at the Mailman School of Public Health at Columbia University and the Icahn School of Medicine at Mount Sinai.
Language
Position
LECTURER | Population Health Science and Policy