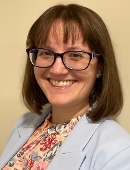 Ashley Sterchele, MD
About Me
Clinical Focus
Education & Certifications
About Me
Ashley Sterchele completed her B.S. in neuroscience and religious studies at The University of Pittsburgh and then attended Lewis Katz School of Medicine at Temple University where she completed her M.D. She completed her residency at Mount Sinai Beth Israel where she was the PGY1 Chief her final year. As a fourth year, she worked yearlong at Baruch Counseling Center. Afterwards she went on to train as a Child and Adolescent Psychiatrist at New York University, serving as Inpatient Chief Fellow her second year. Upon graduation she worked in NJ at the ADHD Mood and Behavior Center with children, adolescents and adults. She is currently an Outpatient Psychiatry Attending in POSA and Associate Program Director for the Psychiatry Residency Program. She presented at AACAP in 2019: An Exploratory Study – Trauma Assessment and the Future Direction of Child and Adolescent Trauma Training Curriculum; and she presented at NYU Grand Rounds on delirium in youth: "What is Happening to My Child? The Challenge of Assessing and Treating Delirium in Young Children." She has presented at multiple parent workshops at local elementary, middle and high schools in NY on: behavioral management, social-emotional learning and collaborative problem solving, and processing grief/loss and trauma caused by COVID, with special focus on parental health and wellbeing. She has led a Q and A for the CHADD, Parent Support Group on ADHD Diagnosis and Medications (2021).
Areas of Interest: attachment and PTSD in youth and adults; college age young adults and transition through young adulthood; working with parents (topics in parent management training, wellbeing, co-regulation)
Current Role: Associate Program Director, Psychiatry Residency at Mount Sinai Beth Israel Assistant Professor, Outpatient Psychiatry (POSA).
Language
Position
ASSISTANT PROFESSOR | Outpatient Adult Psychiatry
Hospital Affiliations
Mount Sinai Morningside
Mount Sinai Beth Israel
Mount Sinai Brooklyn
Mount Sinai Queens
The Mount Sinai Hospital
Mount Sinai West