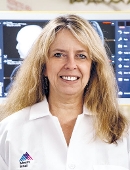 Barbara Vickrey, MD, MPH
About Me
Education & Certifications
Awards
Locations
Publications
About Me
Barbara G. Vickrey, MD, MPH specializes in translating clinical evidence into improvements in routine medical practice that benefit patients' health. Her wide-ranging accomplishments include demonstrating that collaboration among health care systems, community organizations, and caregivers can improve quality of care and outcomes for dementia patients. She also designed health care delivery innovations ranging from better control of post-stroke risk factors in underserved populations to new ways to care for veterans with Parkinson's disease. Dr. Vickrey was elected to the Institute of Medicine of the National Academies in 2011.

Dr. Vickrey leads a multi-year, stroke prevention/intervention research program in health disparities funded by the National Institute of Neurological Disorders and Stroke. She serves on the Science Committee of the American Academy of Neurology and is immediate Past President of the American Neurological Association.

Dr. Vickrey served for 25 years on the faculty of the University of California, Los Angeles (UCLA), where she was Professor of Neurology and Director of the departmental Health Services Research Program. She was also Associate Director for Research at the Greater Los Angeles Veterans Administration Parkinson's Disease Research, Education and Clinical Center.

Dr. Vickrey earned her MD at Duke University School of Medicine and her MPH at the UCLA School of Public Health. She completed postgraduate clinical training in medicine and neurology at the University of Washington in Seattle, and then research fellowships in the Robert Wood Johnson Clinical Scholars Program at UCLA and the RAND/UCLA Center for Health Policy Study.

Language
Position
PROFESSOR AND SYSTEM CHAIR | Neurology
Hospital Affiliations
Mount Sinai Brooklyn
The Mount Sinai Hospital
Mount Sinai Morningside and Mount Sinai West