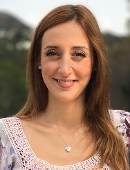 Belen Rubio Gonzalez, MD
About Me
Dr. Belen Rubio Gonzalez is an Assistant Professor of Dermatology. After graduating with her Medicine and Surgery Degree from the Autonomous University of Madrid in Spain in 2009, Dr. Rubio Gonzalez completed her dermatology residency at the Hospital 12 de Octubre in 2014. Following her residency, she spent about a year working as a dermatologist at the Hospital "Son Llatzer" in Mallorca and the Hospital "Infanta Leonor" and Hospital "Sanchinarro" in Madrid. In 2015, Dr. Rubio Gonzalez moved to California, where she began her Postdoctoral Clinical Research Fellowship under the mentorship of Dr. Christiane Querfeld at the City of Hope National Medical Center, which she completed in 2017. Immediately following her fellowship, she entered her anatomic pathology residency at the University of California San Francisco, which she completed in 2020. Since graduating from residency, Dr. Rubio Gonzalez completed her Dermatopathology Fellowship at Memorial Sloan Kettering Cancer Center and Cornell University in New York in 2021.

Dr. Rubio Gonzalez has cultivated an impressive research and scholarship profile. She has been the principal investigator on three clinical trials, most recently receiving a grant from the Clinical Cancer Genomics Laboratory to develop a diagnostic model for the diagnosis of BAP1 inactivated melanocytic tumors and to identify genetic progression events. Furthermore, she has been involved as associate investigator in six other clinical trials related to the study of Cutaneous Lymphomas.

Dr. Rubio Gonzalez has also co-authored eighteen publications, appearing as first-author in twelve, all of which have appeared in prestigious journals such as the Journal of the American Academy of Dermatology, the Journal of Cutaneous Pathology, the International Journal of Dermatology, Pediatric Dermatology and the British Journal of Haematology.
Language
Position
ASSISTANT PROFESSOR | Dermatology