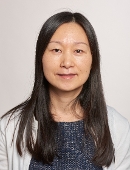 Bian Liu, PhD
About Me
Education & Certifications
Locations
Publications
About Me
Dr. Liu investigates the distributions and determinants of health in human populations. Her research interests include studying epidemiological patterns, such as geospatial and disparity patterns of exposures to pollutants, health outcomes, and exposure-outcome associations under normal conditions, as well as in the context of hazards and disasters. She applies epidemiological and statistical approaches to large databases, such as survey data, healthcare administrative data, cancer registry data, census data, as well as environmental pollution data, to determine how factors at personal and area levels affects people's health and their healthcare utilization.
View Dr. Liu's Publications in PubMed
View Dr. Liu's Publications in GoogleScholar
Teaching activities: BIO 6100 Fundamentals of Epidemiology.
Language
Position
ASSOCIATE PROFESSOR | Population Health Science and Policy, ASSOCIATE PROFESSOR | Environmental Medicine & Public Health
Research Topics
Biostatistics, Cancer, Community, Environmental Health, Epidemiology, Healthcare, Public Health