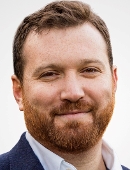 Mount Sinai Doctors
Accepting New Patients
Brett L Hayden, MD
Orthopedics and Orthopedic Surgery
Book an Appointment
About Me
Clinical Focus
Education & Certifications
Locations
Insurance
Patient Experience Rating
Industry Relationships
About Me
Brett L. Hayden, MD is an Assistant Professor of Orthopaedic Surgery at the Ichan School of Medicine at Mount Sinai, in the Leni and Peter W. May Department of Orthopedics. He is a joint replacement surgeon of the hip and knee who specializes in complex and revision total joint replacement with a specific expertise and training in orthopedic oncology. Dr. Hayden received his undergraduate degree from New York University and medical degree from Albany Medical College. He completed his orthopedic residency at Tufts Medical Center and New England Baptist Hospital in Boston. During residency, he participated in research investigating minimally invasive, tissue sparing approaches to hip replacement and periprosthetic joint infection. Dr. Hayden then completed a fellowship in adult reconstruction/joint replacement at Brigham and Women's Hospital of Harvard Medical School in Boston, MA. During this fellowship, he gained extensive experience in a wide range of arthroplasty procedures, from unicompartmental knee arthroplasty to primary total hip and total knee arthroplasty, with a specific focus on complex and revision hip and knee arthroplasty. He has particular training in treating acetabular defects with trabecular metal augments as well as tissue preserving approaches to total hip replacement including the direct superior approach (SuperCap) and direct anterior approaches with and without the assistance of a specialized orthopedic table. At the Brigham, his research endeavors focused on analyzing long-term outcomes of acetabular augmentation for complex acetabular defects during hip arthroplasty as well as comparing treatment techniques for pathologic hip fractures. Dr. Hayden subsequently completed further fellowship training in musculoskeletal oncology in Houston, TX with renowned orthopedic oncologist Ernest "Chappie" Conrad, a pioneer in the field. There, he treated adult and pediatric patients with malignant bone and soft tissue sarcomas, metastatic disease of bone, as well as benign tumors. Specific emphasis was on complex pelvic and acetabular tumors and limb salvage. He performed research investigating stem implant design in oncologic hip and knee replacement, access to orthopedic oncology care, and implications of missed or delayed oncologic diagnoses.
Dr. Hayden's unique training allows him to specialize in two fields of orthopaedic surgery, joint replacement and orthopedic oncology. He enjoys taking on some of the most difficult cases in pelvic and acetabular reconstruction from failed prior implants or bone tumor resection, cases that often require expertise in both fields. Dr. Hayden cares for patients with catastrophic failure of prior joint replacements as well as oncology patients who require joint replacement for primary bone tumors or metastatic lesions of bone. He also treats patients with hip and knee arthritis (osteoarthritis, post-traumatic arthritis, rheumatoid and juvenile rheumatoid arthritis), young adults with congenital hip dysplasia who have failed hip preservation procedures, and adult and pediatric patients with bone tumors of the pelvis and appendicular skeletal.
Dr. Hayden's research interests lie at the intersection of his two orthopedic subspecialties; hip and knee reconstruction and musculoskeletal oncology. His peer-reviewed publications, national, and international presentations in arthroplasty have focused on surgical approaches to hip replacement, periprosthetic joint infection prevention, acetabular cup placement in total hip arthroplasty. Prior projects include assessing long-term outcome of acetabular augmentation with trabecular metal in complex primary and revision total hip arthroplasty and further investigation on early outcomes of different surgical approaches to hip arthroplasty. Because most arthroplasty literature excludes oncology patients, he believes in the need to investigate this specific patient population rigorously. He has developed multicenter projects to investigate outcomes of arthroplasty in the treatment pathologic fractures of the hip including pathologic acetabular fractures and pathologic femoral neck fractures. Additional projects involve assessing the safety of TXA use in total joint arthroplasty patients with a history of malignancy, comparing complications and mortality rates of arthroplasty for pathologic fractures to those of native, non-neoplastic hip fracture patients, and comparing multiple cementless stem design features in complex reconstruction and oncologic hip and knee implants.
Dr. Hayden specializes in the following conditions:
Hip & Knee Arthritis, Osteonecrosis (AVN), Post-Traumatic Arthritis, Rheumatoid Arthritis
Failed Total Hip and Total Knee Replacements
Failed Hip Resurfacings and Metal-on-Metal Hip Replacements
Painful Total Hip and Total Knee Replacements
Periprosthetic Joint Infection
Periprosthetic Fractures
Hip Dysplasia (DDH)
Hip Fractures
Adult and Pediatric Bone Sarcoma, Bone Cancer, Osteosarcoma, Ewing Sarcoma, Chondrosarcoma
Soft Tissue Sarcoma
Metastatic Bone Disease
Pathologic Fractures
Education
New York University, New York, NY - Undergraduate, BA
Albany Medical College, Albany, NY - Medical School, MD
Tufts Affiliated Residency Program, Boston, MA - Residency in Orthopaedic Surgery
Brigham and Women's Hospital, Harvard Medical School, Boston, MA - Fellowship in Adult Reconstruction and Total Joint Replacement
UT Health Sciences, Houston, TX - Fellowship in Musculoskeletal Oncology
Language
Position
ASSISTANT PROFESSOR | Orthopedics
Hospital Affiliations
Mount Sinai Beth Israel
Mount Sinai Morningside
Mount Sinai Brooklyn
Mount Sinai Queens
The Mount Sinai Hospital
Mount Sinai West
Research Topics
Orthopaedics