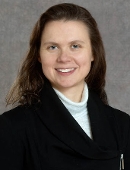 Mount Sinai Doctors
Carisa Kymissis, MD
Psychiatry
No Patient Experience Ratings
About Me
Education & Certifications
Awards
Insurance
Industry Relationships
About Me
Current Title:
Dr. Kymissis is the Medical Director of Quality and Patient Safety at Mount Sinai Beth Israel, Department of Psychiatry.
Specialties: Quality, Patient Safety, Performance Improvement
Career achievements:
Dr. Kymissis' clinical and leadership roles have spanned across psychiatric disciplines over the past 10+ years. Her earliest career roles were at (what were previously known as) St. Luke's and Roosevelt Hospitals in NYC in the consultation-liaison psychiatry and psychiatric emergency department services. In the years to follow, she continued clinical effort as a CPEP attending at Columbia University Medical Center/New York Presbyterian Hospital while also focusing time in the outpatient setting, first as an attending in the Columbia University Medical Center Intensive Outpatient Program and then in the New York Presbyterian Hospital (NYP) Adult Outpatient Psychiatry Clinic. Dr. Kymissis served as Medical Director of the NYP Adult Outpatient Psychiatry Clinic for over three years before transitioning to her current role at Mount Sinai Beth Israel Hospital in the area of quality and patient safety. Throughout her career, Dr. Kymissis has dedicated much of her time to the teaching and supervision of psychiatry residents, medical students, and psychology interns and externs. She served as Associate Director of Residency Training for the Creedmoor Psychiatry Center for over 5 years, with efforts focused on resident teaching and psychopharm and psychotherapy curriculum development.
Specialties and Current Interests:
Dr. Kymissis' background includes over a decade of clinical experience across psychiatric disciplines and settings, including CPEP, Consultation-Liaison Psychiatry, Integrated Care, and Adult Outpatient Psychiatry and involving residency training leadership, quality and patient safety programming, and data-based decision making. As the Medical Director of Quality and Patient Safety for the MSBI Department of Psychiatry, her current role involves coordination with clinical service leaders in departmental quality and risk management activities, with efforts directed toward improving systems processes and the patient experience.
Language
Position
ASSISTANT PROFESSOR | Psychiatry
Hospital Affiliations
Mount Sinai Morningside
Mount Sinai Beth Israel
Mount Sinai Brooklyn
Mount Sinai Queens
The Mount Sinai Hospital
Mount Sinai West