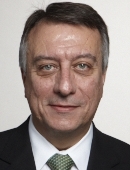 Carlos Cordon-Cardo, MD, PhD
About Me
Education & Certifications
Locations
About Me
Carlos Cordon-Cardo, MD, PhD is the Irene Heinz Given and John LaPorte Given Professor and Chairman for the Mount Sinai Health System Department of Pathology.
Dr. Cordon-Cardo obtained his MD from the Autonomous University of Barcelona, Spain, in 1980, and his PhD in Cell Biology and Genetics from Cornell University Medical College in 1985. Prior to joining Mount Sinai, Dr. Cordon-Cardo served as Vice-Chair of Pathology, Professor of Pathology, and Urology, and Associate Director for Infrastructure at the Herbert Irving Comprehensive Cancer Center at Columbia University College of Physicians and Surgeons. He also created the Division of Molecular Pathology at Memorial Sloan-Kettering Cancer Center and served as its first director.
Dr. Cordon-Cardo has outlined a broad vision that redefines the discipline of Pathology, placing it at the core of patient management and individualized medicine. An accomplished and internationally-recognized researcher, Dr. Cordon-Cardo is renowned for his studies on experimental pathology and molecular oncology. He developed and implemented an oncologic molecular pathology discipline and helped create the "systems pathology" platform. This approach uses systems biology to form mathematical models of the interaction and behavior of cancer cells with the goal of determining tumor pathogenesis and clinical outcome. Already his analyses of multi-drug resistance and alterations of tumor suppressor genes in human cancer, mainly those which deregulate cell cycle, have led to extraordinary breakthroughs in the way scientists understand and investigate the progression of certain solid-tumor cancers. His groundbreaking research has produced novel insights into tumor suppressor gene-oncogene interactions in human cancers, a proposed model for tumor progression of bladder cancer that defines two distinct pathways for early tumors, and evidence of the critical role of androgen receptor overexpression in the progression of prostate cancer and its resistance to hormonal therapy. Expression profiling using high through put microarrays has been a logical extension of the work carried out in his laboratory, providing novel insights into the molecular classification of human cancer. More recently, studies from his laboratory have linked adult stem cells and cancer, and have reported on the discovery of a subpopulation of human prostate tumor initiating cells with stem properties. This new cancer stem cell compartment has been identified in other solid tumors analyzed.
Dr. Cordon-Cardo has received numerous awards in acknowledgement of his significant contributions to the field of pathology, including the 1991 Boyer Young Investigator Award, the Gold Medal of the Swedish Society of Physicians, the Academico de Numero of the Academia Medico-Quirurgica Española, and the Gold Medal of Medical Sciences "Govierno de Galicia." He is a member on the Roll of Honour of the International Union Against Cancer, and an honorary member of the Spanish-American Medical and Dental Society. Dr. Cordon-Cardo recently received an honorary doctorate from the Universidad de Barcelona, and was named a Member of Honor at the Reial Academia de Medicina de Catalunya. Dr. Cordon-Cardo is also a member of the World Health Organization Collaborating Centers for Urologic Tumors, and the State Legislative Committee of the American Association for Cancer Research. He served as the President for the Solid Tumor Chapter of the Association for Molecular Pathology, and Translational Chair for the Genitourinary Section of the Southwest Oncology Group. He also served as a member of the Review Committee for Cancer Centers and Research Programs of the NCI. More recently, Dr Cordon-Cardo earned the distinction of being listed on the European Journal of Clinical Investigation's "List of 400 Most Highly Influential Biomedical Researchers Worldwide," and a "Thought Leader" Award from Agilent Technologies.

In The News: Dr. Carlos Cordon-Cardo discusses new techniques in the fight against prostate cancer in The Daily News feature The Daily Check Up.
Language
Position
PROFESSOR AND SYSTEM CHAIR | Pathology, Molecular and Cell Based Medicine, PROFESSOR | Genetics and Genomic Sciences, PROFESSOR | Oncological Sciences
Research Topics
Cancer, Cancer Genetics, Cell Biology, Genomics, Molecular Biology, Pathology, Prostate, Proteomics, Stem Cells
Multi-Disciplinary Training Areas
Cancer Biology [CAB], Genetics and Genomic Sciences [GGS]