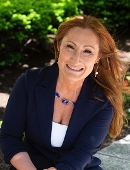 Mount Sinai Doctors
Accepting New Patients
Caterina Tiozzo, MD, PhD
Newborn Medicine
No Patient Experience Ratings
Book an Appointment
About Me
Education & Certifications
Locations
Insurance
Industry Relationships
About Me
Caterina Tiozzo, MD, PhD, MPH, is an Associate Professor of Newborn Medicine at the Jack and Lucky Clark Department of Pediatrics at the Icahn School of Medicine at Mount Sinai.
Dr. Tiozzo received her medical degree cum laude from Padova's School of Medicine, where also she completed her first pediatric residency, neonatal fellowship and Master of Public Health (with humanitarian missions in Kenya in 2002 and 2003). At the end of her residency, she received from the Italian Society of Pediatrics a mention and award as best pediatric research project and thesis in residency in the country. Her PhD on molecular biology was achieved through a collaboration between University of Padova and University of Southern California in Los Angeles. Following this, she completed her postdoc at Children's Hospital of Los Angeles.
After her humanitarian mission with IMC/Partners in Health in Haiti during the 2010 Earthquake, she decided to go back to clinical training to be able to practice in the United States, so she completed her second pediatric residency at Nassau University Medical Center and her neonatal fellowship at Columbia University. She then moved to work at NYU-Long Island where she continued her work as physician scientist. She trained and mentored many neonatal trainees over her career, both in Italy and in the U.S.
Dr. Tiozzo is a member of the "Society of Pediatric Research" and is the recipient of several awards for her research discoveries from Europe and the United States. She was selected by Italy for a documentary on Italians in New York during COVID, for several interviews by different Italian and American newspapers and as outstanding alumni of University of Padova.
Finally, she received the title of "Knight of the Order" Croce d'Italia" by the Italian President for her work in developing countries and through the COVID pandemia.
Research Focus:
Dr. Tiozzo's research focuses on lung development, stem cells regeneration after lung injury, the role of the intrauterine environment in lung development and the effect of neonatal nutrition and oxidative stress in the development of neonatal chronic lung disease. She is the author of over 30 papers in the field of lung development and neonatology and she is often invited to speak at national and international meetings on the topic of her research interests.
Language
Position
ASSOCIATE PROFESSOR | Pediatrics, Newborn Medicine
Hospital Affiliations
Mount Sinai Beth Israel
Mount Sinai Morningside
The Mount Sinai Hospital
Mount Sinai West