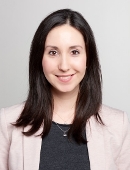 Video Visit Available
Accepting New Patients
Mount Sinai Doctors
Accepting New Patients
Cemre Robinson, MD
Pediatric Endocrinology, Pediatrics
No Patient Experience Ratings
Book an Appointment
About Me
Clinical Focus
Education & Certifications
Locations
Insurance
Publications
Industry Relationships
About Me
Cemre Robinson, MD is an Assistant Professor of Pediatrics in the Division of Pediatric Endocrinology and Diabetes in the Jack and Lucy Clark Department of Pediatrics at the Icahn School of Medicine at Mount Sinai and Mount Sinai Kravis Children's Hospital working as part-time faculty. She received her medical degree from the Mercer University School of Medicine in Georgia and completed her pediatric residency at the Lewis M. Fraad Department of Pediatrics, Albert Einstein College of Medicine at Jacobi Medical Center in New York. Dr. Robinson completed her fellowship training in Pediatric Endocrinology at the Eunice Kennedy Shriver National Institute of Child Health and Human Development at the National Institutes of Health in Bethesda, Maryland. Prior to joining Mount Sinai, she was an Assistant Professor of Pediatrics in the Section of Endocrinology at Yale School of Medicine.

Dr. Robinson's expertise is in pediatric metabolic bone diseases. She is the director of The Mount Sinai Pediatric Bone Health Program and she is seeing patients in the weekly Pediatric Bone Health Clinic and cares for children and adolescents with:
Osteoporosis
Vitamin D disorders
Disorders of calcium and phosphorus metabolism
Hypophosphatasia (HPP)
Osteogenesis imperfecta (OI)
Hypophosphatemic rickets (XLH)
Fibrous dysplasia/McCune-Albright Syndrome (FD/MAS)
Skeletal dysplasias

The purpose of the Pediatric Bone Health Clinic is to provide comprehensive care to infants, children, and adolescents regarding their bone health. Childhood is a critical time for attainment of bone mass, which impacts lifelong skeletal health. For children with rare bone diseases such as bone fragility or heritable forms of rickets, early diagnosis and treatment are necessary to ensure proper bone health. Children can also be at risk for developing low bone mass, osteoporosis and multiple fractures due to an underlying chronic disease. Early identification of the risk factors and prevention of osteoporosis through modifications in nutrition, physical activity, calcium and vitamin D intake are key to optimize bone health in children. Dr. Robinson offers individualized assessment and care-plans for each patient, including:
Clinical evaluation for screening and diagnosis of metabolic bone disorders
Laboratory evaluation of bone minerals, such as calcium and phosphorus and vitamin D metabolites
Dual-energy X-ray absorptiometry (DXA) scans to measure bone mineral density
Genetic testing for rare bone and mineral disorderssuch as osteogenesis imperfecta, hypophosphatemic rickets and hypophosphatasia
Treatment as indicated, including Bisphosphonate infusions
Clinical Focus
Osteoporosis
Rickets
Vitamin D Deficiency
For Referring Providers:
To refer a patient to Pediatric Bone Health Clinic, please call 212-241-8210, or fax the referral form to 212-241-5405.
Language
Position
ASSISTANT CLINICAL PROFESSOR | Pediatrics, Endocrinology and Diabetes, ASSISTANT CLINICAL PROFESSOR | Medicine, Endocrinology, Diabetes and Bone Disease
Hospital Affiliations
Mount Sinai Morningside
Mount Sinai Beth Israel
Mount Sinai Queens
The Mount Sinai Hospital
Mount Sinai West