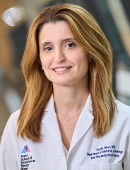 Mount Sinai Doctors
Ceyda Oner, MD
Obstetrics and Gynecology (OBGYN)
No Patient Experience Ratings
About Me
Education & Certifications
Insurance
Publications
Industry Relationships
About Me
Ceyda Oner, MD, is a board certified obstetrician/gynecologist and an Assistant Professor of Obstetrics, Gynecology, and Reproductive Science at the Icahn School of Medicine at Mount Sinai. Dr. Oner provides obstetrical and gynecologic care for women of all ages, from adolescence to menopause, with clinical interests ranging from family planning to minimally invasive surgeries.
Dr. Oner currently serves as the Director of Quality and Patient Safety for the Department of OB/GYN at The Mount Sinai Hospital since January 2021. She previously served as the Interim Director since February 2020. In this role, Dr. Oner oversees patient safety initiatives for the hospital. She has been the Chair for the hospital's Gynecology Quality and Safety Committee since May 2018, and the Chair for the Obstetrics Quality and Safety Committee since February 2020.
Dr. Oner joined Mount Sinai as an attending physician in 2017. Prior to Mount Sinai, she was with Maimonides Medical Center and SUNY Downstate at Long Island College Hospital and had served as the Assistant Director for the Peer Review and Patient Safety Committee at Maimonides Hospital.
Dr. Oner is a Fellow of the American College of Obstetricians and Gynecologists (ACOG) and is a member of the Society for Simulation in Health Care. In 2017, Dr. Oner was recognized by the Society for Academic Specialists in General Obstetrics and Gynecology (SASGOG) with the Faculty Award for her commitment to excellence in the clinical care of women and career development of academic specialists in obstetrics and gynecology.
Dr. Oner is active in research and since 2019 serves as Principal Investigator for an IRB-approved resident research study on skills for residents facilitated by simulation education training. Abstracts from this study were accepted to ACOG and SASGOG Annual Meetings in 2020 and 2021.

Dr. Oner completed her residency training at SUNY Downstate at Long Island College Hospital and a postdoctoral fellowship in research in the Department of Obstetrics and Gynecology at the Yale School of Medicine. She earned her medical degree from Trakya University School of Medicine in Edirne, Turkey.
Language
Position
ASSISTANT PROFESSOR | Obstetrics, Gynecology and Reproductive Science
Hospital Affiliations
Mount Sinai Beth Israel
Mount Sinai Morningside
Mount Sinai Queens
The Mount Sinai Hospital
Mount Sinai West