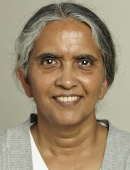 Chitra Amarasiriwardena, PhD
About Me
Industry Relationships
About Me
Chitra J. Amarasiriwardena, PhD, is Associate Professor in the Department of Environmental Medicine and Public Health at the Icahn School of Medicine at Mount Sinai since 2013. She has served as Director of Analytical Operations at The Senator Frank R. Lautenberg Environmental Health Sciences Laboratory at Icahn School of Medicine at Mount Sinai since 2014.
Prior to joining Mount Sinai, Dr. Amarasiriwardena co-directed the trace-metal laboratory at Harvard School of Public Health for 20 years. During that time Dr. Amarasiriwardena served as an investigator and also served as the Director of the Biological Samples Division of the Analytical Chemistry Cores for three Centers: the Center for Children's Environmental Health (funded by NIEHS and EPA), the Superfund Basic Research Program (funded by NIEHS), and the Harvard-NIEHS Center, all at the Harvard School of Public Health.
Dr. Amarasiriwardena is an analytical chemist specializing in trace metal analysis. She has extensive experience in measuring trace metals in various matrices using spectroscopic methods such as atomic absorption spectroscopy, inductively coupled plasma-atomic emission spectroscopy and inductively coupled plasma-mass spectrometry. Her research experience also includes speciation of metal-bound proteins and other molecules in biological matrices with the aim of understanding the effects of heavy-metal toxicity at the molecular level. She also has experience of stable isotope tracers with the goal of better understanding metal metabolism and metal toxicity, and analysis of stable isotope ratios with the purpose of identifying sources of contamination. Dr. Amarasiriwardena currently serves as a Co-Investigator responsible for conducting overseeing the trace metal analysis of biological samples and overseeing implementation of QAQC protocols for following on going grants.
Language