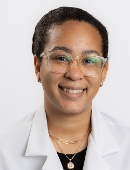 Dania Goodin, MD
About Me
Dania Goodin, MD is an Instructor of Emergency Medicine in the Department of Emergency Medicine, Icahn School of Medicine. Dr. Goodin aslo serves as the Assistant Director of Diversity, Equity and Inclusion at The Mount Sinai Hospital and Mount Sinai Queens. Dr. Goodin joined the staff at Mount Sinai in 2022 after completing her residency at Mount Sinai Health System where she served as Chief Academic Resident. During her time as chief resident, Dr. Goodin created a Social Emergency Medicine and Healthcare disparities curriculum to run alongside the clinical curriculum to increase resident exposure to external factors which impact patient care.
Spending many of her formative years in London, England, the metropolitan city ignited Dr. Goodin's dedication to caring for diverse populations equitably.
She is passionate about patient education and improving health literacy amongst our patients. Dr. Goodin is currently evaluating mechanisms to improve our discharge education strategies to better patient health literacy. She has been dedicated to work in the education space for both residents and patients and hopes to bridge the two with increased community engagement.
Language
Position
INSTRUCTOR | Emergency Medicine
Hospital Affiliations
Mount Sinai Morningside
Mount Sinai Beth Israel
Mount Sinai Brooklyn
Mount Sinai Queens
The Mount Sinai Hospital
Mount Sinai West