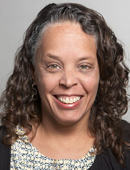 Danielle Laraque, MD
About Me
Clinical Focus
Awards
Research
Publications
Industry Relationships
About Me
Danielle Laraque, M.D., Professor of Pediatrics and the endowed Debra and Leon Black Professor of Pediatrics, is the Chief of the Division of General Pediatrics at Mount Sinai School of Medicine, Department of Pediatrics (2000-present). Dr. Laraque completed her medical studies at the University of California at Los Angeles. She received the Roy Markus Scholarship (1977-1981) in support of her medical studies. Her internship and residency were completed at the Children's Hospital of Philadelphia where she was also a Robert Wood Johnson Fellow in General Academic Pediatrics (1984-86). She was the Ambulatory Pediatric Association Regional Co-Chair from 1993-1996. She joined the faculty at Columbia University at Harlem Hospital in 1986 where she was until 2000. During that period of time she founded and directed many programs including the Adolescent Outreach Program, The Family Support Program and the Family Friends Program. She was the Director of the Harlem Hospital Pediatric Resource Center (1996-2000) and Associate Professor of Clinical Pediatrics at the College of Physicians and Surgeons, Columbia University (1997-2000).
In 2000 Dr. Laraque joined the faculty at Mount Sinai School of Medicine. In 2001 she was a United States Public Health Service Primary Care Policy Fellow. She was the APA National Nominating Committee Member (1995-1997, 2004-2006) and a member of the APA Board of Directors (1999-2002) during which time she chaired the APA Health Care Delivery Committee. She currently serves on the Editorial Board of the Ambulatory Pediatrics journal. She is the Immediate-Past-President for the American Academy of Pediatrics, NY Chapter 3 (2003-2005), the AAP NY Chapter 3 President (2000-2002), and AAP District II Vice Chair (2004-2007). She is on the editorial board for Pediatrics in Review and completed her six-year term (1996-2002) as a member of the American Academy of Pediatrics' National Committee on Injury, Violence and Poison Prevention. Her collaborative injury prevention work in community-based interventions is recognized as a national model. She is a nationally and internationally recognized expert in injury prevention, child abuse, adolescent health risk behaviors and in the issues critical to health care delivery in underserved communities. She has served on the Mayor's Task Force for Child Abuse and helped establish standards for referral of abused children for emergency medical services. She is a member of the Maternal and Child Health Bureau, Bright Futures National Health Promotion Workgroup. Most recently she has focused her research and training activities on children's mental health. Dr. Laraque is the recipient of numerous academic, research, community and public service awards. She serves on numerous committees both locally and nationally.
Since her recruitment as Division Chief for General Pediatrics here at Sinai, a major focus has been placed on growing of innovative clinical pediatric programs, strengthening the academic teaching in support of the primary care residency training (86 residents), and building the infrastructure for robust research in primary care. These endeavors, which involve the vision of building an academic division with a national reputation for excellence, have been supported through vigorous pursuit of extramural grants from federal, state and foundation sources and recruitment of key faculty. Faculty members are engaged in teaching at the medical school, act as course directors in the MPH program, and mentor medical students, residents and fellows. The central themes for research and clinical care have included children's mental health, children with special health care needs, community pediatrics, asthma, obesity, violence prevention, and policy/advocacy. The division continues to recruit academic generalists. The research productivity is being marked by submission and publication of a number of manuscripts.
Language
Position
ADJUNCT PROFESSOR | Pediatrics, ADJUNCT PROFESSOR | Environmental Medicine & Public Health