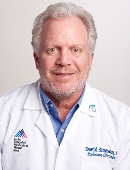 Video Visit Available
Accepting New Patients
Mount Sinai Doctors
Accepting New Patients
David M Simpson, MD
Neurology
Book an Appointment
About Me
Clinical Focus
Education & Certifications
Awards
Research
Locations
Insurance
Publications
Patient Experience Rating
Industry Relationships
About Me
David M. Simpson, MD, FAAN, is Professor of Neurology at The Icahn School of Medicine at Mount Sinai, Department of Neurology. He is Director of the Neuromuscular Diseases Division, Director of the Clinical Neurophysiology Laboratories, and Director of the Neuro-AIDS Program.

Author of more than 300 publications, Dr. Simpson is the principal investigator for many research studies. He led the studies that demonstrated the safety and effectiveness of the high concentration capsaicin patch in the treatment of certain types of painful peripheral neuropathy.
Dr. Simpson also led a research team that performed and published the first placebo-controlled study demonstrating the safety and effectiveness of botulinum toxin in the treatment of post-stroke spasticity. Additional studies by Dr. Simpson's group demonstrated the superiority of botulinum toxin over oral anti-spasticity medications. He has also led several studies to enhance the technique of the botulinum toxin injection. Dr. Simpson has lectured and published extensively in this area and trained physicians in these injections throughout the world.
In addition to his spasticity studies, Dr. Simpson chaired a panel chartered by the American Academy of Neurology to develop evidence-based guidelines on the use of botulinum toxin for a wide range of neurological diseases, including movement disorders such as cervical dystonia and blepharospasm; pain, including migraine; and autonomic disorders, such as hyperhidrosis (excessive sweating).
Dr. Simpson is a member of the American Neurological Association and the American Pain Society. He is a Fellow of the American Academy of Neurology, and the American Academy of Neuromuscular and Electrodiagnostic Medicine. He is on the editorial board of AIDS Patient Care and Current HIV/AIDS Reports.
For more information, contact Dr. Alexandra Nmashie at 212-241-3193 .
Dr. Simpson offers telemedicine appointments when appropriate. Please call his office to schedule a video visit.
Dr. Simpson is registered to provide telehealth services in Florida.
Research Links
Pianist Finds Relief for Common, Yet Underdiagnosed Muscle Condition with Botox
The Mount Sinai Medical Center's Department of Neurology has experts like David Simpson, MD, and Lan Zhou, MD, who help patients suffering from pain or numbness in their limbs to identify, diagnose, and treat painful conditions like small fiber neuropathy.
David Simpson from Mount Sinai Hospital: New Guidelines Provide Clearer Picture for Botulinum Toxin Use
Language
Position
PROFESSOR | Neurology, Neuromuscular Diseases
Hospital Affiliations
Research Topics
HIV/AIDS, Immune Deficiency, Infectious Disease, Motor Control, Neurology, Neuromuscular System, Neurophysiology, Neurotoxicology, Pain, Rehabilitation, Spinal Cord, Stroke, Viruses and Virology