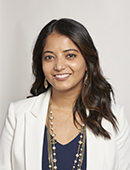 Deepu Madduri, MD
About Me
Clinical Focus
Industry Relationships
About Me
Deepu Madduri, MD is Assistant Professor of Medicine (Hematology and Medical Oncology). She is Associate Director, Cellular Therapy Service, and Director of Clinical Operations with the Center of Excellence for Multiple Myeloma at The Tisch Cancer Institute and the Icahn School of Medicine at Mount Sinai. Dr. Madduri specializes in plasma cell disorders including multiple myeloma, amyloid light-chain amyloidosis, POEMS syndrome, plasmacytoma, and monoclonal gammopathies of uncertain significance. She performs a variety of procedures including bone marrow biopsies and stem cell transplant. She serves as the lead physician liaison between the Center of Excellence for Multiple Myeloma and the Bone Marrow and Stem Cell Transplantation Program at The Mount Sinai Hospital.
Dr. Madduri's research focuses on the clinical management of plasma cell dyscrasias with a strong emphasis on relapsed and refractory multiple myeloma. Her research has included first-in-human/phase 1 clinical trial studies ranging from immunotherapy with checkpoint inhibitors and immune effector cells such as CAR T-cell therapy, NK-cell therapy, and Bi-specific antibodies. She has played an integral role in initiating CAR T-cell studies for myeloma. She is also a member of the Clinical Research Services team for cellular therapies at Mount Sinai and a member of the Bone Marrow Transplant Clinical Trials Network protocol committee.
Dr. Madduri received her MD from the College of Medicine at the University of Oklahoma. She completed her residency in Internal Medicine at St. Mary Medical Center in Langhorne, Pennsylvania, and a fellowship in Hematology and Oncology at the University of California, Harbor Campus in Torrance, California, with additional fellowship training in Blood and Marrow Transplant at Stanford Hospital. Dr. Madduri serves as an oncology consultant at Foundation Medicine, Inc., a cancer genomic company, and leads their Smart Trials Precision enrollment program.
Language
Position
ADJUNCT ASSISTANT PROFESSOR | Medicine, Hematology and Medical Oncology