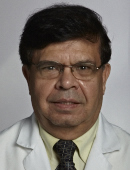 Mount Sinai Doctors
Dushyant P Purohit, MD
Anatomic Pathology and Clinical Pathology
No Patient Experience Ratings
About Me
Education & Certifications
Research
Insurance
Publications
Industry Relationships
About Me
Dr. Dushyant Purohit is a clinical and academic neuropathologist working as attending neuropathologist and holding a position of Associate Professor of Pathology and Psychiatry at Icahn School of Medicine at Mount Sinai. His research work on dementia had spanned for almost 30 years at Mount Sinai while working on multiple NIH grant-funded programs where he contributed in neuropathological characterization, clinicopathological correlation and phenotypic research on Alzheimer's disease, movement disorders, ALS-Parkinson-dementia complex of Guam, schizophrenia and brain aging. He also carries out clinical diagnostic work in neuropathology in the Department of Pathology at Mount Sinai. Dr. Purohit offers teaching in the department's Neuropathology Fellowship program providing 2-year training to two Fellows and to pathology residents and medical students.
Research on dementia and other neurodegenerative disorders: Just when Alzheimer's Disease Research Center started, Dr. Purohit had joined Dr. Daniel Perl in developing Neuropathology Core of the Mount Sinai ADRC as also in comprehensive neuropathology research support to studies on neurodegenerative disorders under NIH-grant funded research programs including studies on brain aging, ALS-PD complex of Guam, schizophrenia and neurobiological research under the Conte Center program at Mount Sinai. Several studies attributed to Dr. Purohit's research work included correlation of lesion loads of amyloid plaques, neurofibrillary tangles and Lewy bodies with levels of cognitive impairment, correlation of the risk factors of Alzheimer's disease, (diabetes, hypertension, vascular injury, depression), studies on movement disorders, and brain changes in schizophrenia, ALS-PDC of Guam, traumatic brain injury and age-related cognitive loss in India. Dr. Purohit has also been providing data and consultation to NACC (National Alzheimer Center Consortium) and had participated in the CERAD group (1990). He participated in study sections for NIH grants.
Brain Banking: Dr. Purohit's work in neuropathology research led him to engage in brain banking. In Mount Sinai/VA Neurodegenerative Disorders Brain Bank where over 2000 brain specimens have been banked as snapped frozen and formalin fixed specimens, and samples for molecular studies. This activity has recently morphed into a NIH NeuroBioBank center (2013- current), one of the six Brain Banking sites of the NIH directed and managed consortium that aims to make available to neuroscience researchers an unprecedented volume and varieties of brain tissue and other material in Sinai and in centers across the US and internationally. Recently a Mount Sinai for Neurodegenerative Disorders Brain Bank (NDBB) and Research Neuropathology Core established jointly in the Department of Pathology and the Friedman Brain Institute. Dr. Purohit participates as Co-Director for this newly established brain Bank. This endeavor has an additional focus on advancing neuroscience and clinical research by adopting the newer research and archival methods using digital pathology and machine learning.
Research development in the Low and Middle Income Countries: Dr. Purohit's interest in dementia in developing countries led to his work as Principal Investigator for NIH-grant funded studies on cognitive loss in Indian population (years 2004-2012). This interest stems from his observation that in India, a typical LMIC, where apart from a few illustrious centers, dementia research has been very sparse. His attempt to set up research on dementia in India materialized when he was awarded R21 grant in 2004, and later a follow up R01, by NIH/Fogarty international Center. He is hoping to assist in similar future research programs. He has participated in WHO/WFN/IBRO cosponsored research symposia on dementia in developing countries held in Nairobi that are organized by Institute of Aging of Newcastle University in the UK
Language
Position
ASSOCIATE PROFESSOR | Pathology, Molecular and Cell Based Medicine, ASSOCIATE PROFESSOR | Psychiatry
Hospital Affiliations
Mount Sinai Beth Israel
The Mount Sinai Hospital