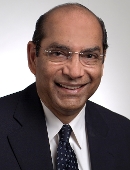 E. Premkumar Reddy, PhD
About Me
Education & Certifications
Awards
Research
Locations
About Me
Dr. E. Premkumar Reddy obtained his Ph.D. in 1971 and carried out his post-doctoral training at the UCLA School of Medicine from 1972-1974 and later at the National Cancer Institute from 1974-75. He worked at the National Cancer Institute first as an independent investigator and later as a section chief between 1975 and 1984. In 1984, he moved to Hoffmann La Roche and held appointments at Hoffmann La Roche and the Roche Institute of Molecular Biology as a Full Member. In 1986, he joined the Wistar Institute as a Professor and Deputy Director. From 1992 to 2010, he served as the Director of the Fels Institute for Cancer Research and Molecular Biology, Temple University School of Medicine, Philadelphia. He joined the Mount Sinai School of Medicine in March of 2010 as a Professor in the Departments of Oncological Sciences and the Department of Structural and Chemical Biology and as the Director of Experimental Cancer Therapeutics.


While working at the National Cancer Institute, he made a number of seminal discoveries that provided a clear understanding of the molecular basis of cancer. He cloned and sequenced a number of viral oncogenes which included abl, ras, fgr, mos, myb, myc and sis oncogenes and their cellular homologues which pinpointed the precise changes that cellular proto-oncogenes undergo to produce cancer-causing viral oncogenes. He extended this work to human cancers and was responsible for the seminal discovery that point mutations in the cellular ras genes result in their oncogenic activation. His work also showed the mechanisms associated with the activation of Abl and Myb oncogenes, which are associated with the development of human myelogenous leukemias. His recent work on cell cycle regulator, Cdk4 has shown that this gene is very critical for the development of ErbB2 and ras oncogene-induced tumors and inhibition of expression of Cdk4 causes ablation of breast cancers caused by ErbB2 and Ras oncogenes.


Dr. Reddy has pioneered the development of small molecule inhibitors targeted against oncogenes and cell cycle regulators for cancer therapy. One of the drugs developed by Dr. Reddy, ON01910 is currently in Phase III clinical trials and has shown profound clinical activity in MDS (Myelodysplastic Syndrome) patients as a single agent. In combination with Oxaliplatin and Gemcitabine, ON01910 was found to have remarkable efficacy in reducing the tumor burden of several metastatic cancers including breast, ovarian and pancreatic cancers. In addition to ON01910, Dr. Reddy has developed six different cancer drugs, two of which (ON013100, and ON01210) have entered clinical trials and the other three are expected to enter clinical trials in the next one year. Two of these drugs, a small molecule inhibitor of Plk2, ON1231320 and a second compounds ON123300 which is a dual inhibitor of Cdk4 and AKT pathways arecurrently undergoing pre-clinical evaluation.


Dr. Reddy founded the cancer journal Oncogene in 1986 and served as its Editor from 1986 to 2009. In 2010, he founded a second cancer journal, Genes & Cancer for which he currently serves as the Editor-in-Chief.

Language
Position
PROFESSOR | Oncological Sciences, PROFESSOR | Pharmacological Sciences
Research Topics
Autophagy, Cancer, Cancer Genetics, Cell Cycle, Cytokines, Drug Design and Discovery, Knockout Mice, Leukemia, Lymphoma, Oncogenes, Protein Kinases, Signal Transduction, Stem Cells, Transcription Factors, Transgenic Mice, Tumor Suppressor Genes, Viruses and Virology
Multi-Disciplinary Training Areas
Cancer Biology [CAB], Disease Mechanisms and Therapeutics (DMT)