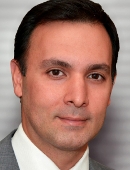 Accepting New Patients
Ebrahim Elahi, MD
Ebby Elahi (Preferred Name)
Ophthalmology (Eye)
No Patient Experience Ratings
Book an Appointment
About Me
Clinical Focus
Education & Certifications
Locations
Insurance
Industry Relationships
About Me
Dr. Ebby Elahi is a Clinical Professor of Ophthalmology, Otolaryngology, and Public Health at the Icahn School of Medicine at Mount Sinai. He also serves as Director of Fifth Avenue Associates. An internationally recognized expert in ophthalmic and oculofacial aesthetic and reconstructive surgery, Dr. Elahi is a fellow of the American Academy of Ophthalmology, the American Society of Ophthalmic Plastic and Reconstructive Surgery, and the American College of Surgeons. He is the past president of the Mount Sinai Eye Alumni Association and the past president of the New York Facial Plastic Surgery Society.
After initially beginning his medical education at Louis Pasteur University in France, Dr. Elahi relocated to New York where he completed his undergraduate studies and obtained his medical degree from the Mount Sinai School of Medicine. He then completed his specialty and subspecialty training in Ophthalmology and Oculofacial surgery at Mount Sinai. For several years, he served as Director of Eye Care Services at Mount Sinai Medical Center prior to assuming the helm at Fifth Avenue Associates. Dr. Elahi has also served as co-director of Mount Sinai's Ophthalmic, Plastic, and Reconstructive Surgery Fellowship program. Dr. Elahi also holds an MBA from Columbia University.
Dr. Elahi's extensive clinical experience ranges from surgical and non-surgical aesthetic procedures to complex conditions involving eyelids, the orbit, and the lacrimal system. His special interests lie in the correction of age-related facial, orbital, and eyelid changes, advanced surgical management of eyelid and orbital malignancies, and treatment of thyroid-related eye disease.
Alongside his clinical practice, Dr. Elahi is actively involved in research and education, frequently lecturing nationally and abroad. He is the author of several reference books focused on global health. He is widely published in peer-reviewed and medical journals and has contributed to several internationally-referenced textbooks. Dr. Elahi's innovative approach to orbital repair and enhancement has resulted in several U.S. patents. Several of his inventions have been funded and currently being developed. An inducted member of the Alpha Omega Alpha Medical Honor Society, Dr. Elahi is also the recipient of several prestigious awards, including the Jacobi Medallion, Mount Sinai's highest award, the Abraham Kornzweig Award for Excellence in Resident Education and Mount Sinai's Auxiliary Board's Award for Outstanding Contribution to the International Community.
For more than two decades Dr. Elahi has been an advocate for issues surrounding global health. Currently, he serves as Director of International Affairs at the Virtue Foundation, an NGO in special consultative status to the Economic and Social Council at the United Nations. In this capacity, he has organized and led multiple missions to various countries around the world, including Mongolia, Liberia, Burundi, Cambodia, Tonga, El Salvador, and Ghana, providing surgical care and training while seeking to improve the delivery of local healthcare. Believing that granular data and artificial intelligence can lead to sustainable improvement in global healthcare philanthropy, Dr. Elahi has led an academic multidisciplinary consortium of data scientists with the goal of directing care to resource-poor regions around the globe.
Dr. Elahi has been featured in various media including The New York Times, ABC, CBS, Elle and Vogue. For many years he has been recognized by his peers through such publications as New York Magazine's Best Doctors, Castle Connolly's Best Doctors and Super Doctors. In addition to his own practice, Dr. Elahi also holds surgical privileges at Mount Sinai Medical Center, the New York Eye and Ear Infirmary, and Mount Sinai West.
Language
English, Italian, French, Persian, Spanish
Position
CLINICAL PROFESSOR | Ophthalmology, CLINICAL PROFESSOR | Otolaryngology, CLINICAL PROFESSOR | Environmental Medicine & Public Health
Hospital Affiliations
Mount Sinai Morningside
Mount Sinai Beth Israel
Mount Sinai Brooklyn
Mount Sinai Queens
The Mount Sinai Hospital
New York Eye and Ear Infirmary of Mount Sinai
Mount Sinai West
Research Topics
Imaging, Thyroid