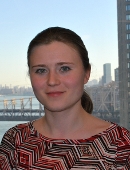 Elena Ezhkova, PhD
About Me
Education & Certifications
Awards
Research
Locations
Publications
About Me
Dr. Elena Ezhkova is a Professor of Cell, Developmental and Regenerative Biology and Dermatology. She is Director of Skin Biology and Diseases Resource-based Center (SBDRC) at Mount Sinai. She is a member of Black Family Stem Cell Institute and Tisch Cancer Center.
The long-term interest of Ezhkova lab is to elucidate molecular mechanisms that control epithelial stem cells during development and adulthood and to uncover how these processes are altered in human diseases, such as cancer.
We are recruiting graduate students and postdoctoral fellows!
For more information, please visit our website: https://www.ezhkova-lab.com/
Folow us on Twitter : https://twitter.com/EzhkovaLab
Language
Position
PROFESSOR | Cell, Developmental & Regenerative Biology, PROFESSOR | Dermatology
Research Topics
Cancer, Cellular Differentiation, Developmental Biology, Epigenetics, Epithelial Cells, Stem Cells
Multi-Disciplinary Training Areas
Cancer Biology [CAB], Development Regeneration and Stem Cells [DRS], Genetics and Genomic Sciences [GGS]