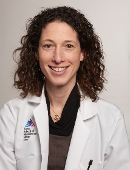 Elizabeth S Albertini, MD
About Me
Dr Albertini is a psychiatrist specializing in consultation psychiatry, and general adult psychiatry including psychopharmacology and psychotherapy. She has a special focus in the comprehensive psychiatric evaluation and treatment for women and their families during fertility, pregnancy, postpartum, pregnancy losses, perimenopause/menopausal and women's sexual problems.

Dr Albertini completed her undergraduate education at Princeton University and her medical training at SUNY Downstate College of Medicine. After four years of residency training in psychiatry at NYU Langone Medical Center and Bellevue Hospital, Dr Albertini did an additional postgraduate fellowship in consult-liaison medicine at Icahn School of Medicine at Mount Sinai Hospital.

Financial & Billing Information

Please direct any detailed billing or financial inquires to the Mount Sinai Psychiatry billing customer service number at 212-659-8752.

Language
Position
ASSISTANT CLINICAL PROFESSOR | Psychiatry