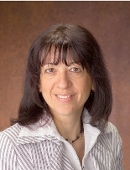 Emanuela Taioli, MD, PhD
About Me
Education & Certifications
Research
Locations
Publications
About Me
Dr. Emanuela Taioli received her M.D. from University of Milan in 1981. She then attended Columbia University where she received her M.S. and Ph.D. degrees in Epidemiology.
In 2015 Dr. Taioli joined Mount Sinai as Professor of Population Health and Science and of Thoracic Surgery, and the Director of the Institute for Translational Epidemiology, and as Director of the Center for the Study of Thoracic Diseases Outcomes. She is also Associate Director for Population Science and a Co-Leader of the Cancer Prevention and Control Program at The Tisch Cancer Institute.
As Associate Director, Dr. Taioli oversees the epidemiological, behavioral and health service research activities of TCI's multi-disciplinary faculty with a goal of securing designation of TCI as a National Cancer Institute (NCI)-Comprehensive Cancer Center – a level higher than the NCI Cancer Center designation that TCI obtained in 2015, reflecting an added depth and breadth of research as well as substantial transdisciplinary research.
Prior to joining the School, Dr. Taioli was the Chief of Epidemiology for the Northwell Health System at Hofstra School of Medicine. She established herself as a pioneer in pooling large datasets and establishing the first international pooled analysis of studies on gene-environment interaction, which lead to the formation of large consortia investigating cancer outcomes on an international level.
Among her most important contributions are those to the field of cancer prevention, including the study of cancer risk factors in healthy populations, cancer predisposing factors, hormone metabolism and genetic susceptibility to environmental exposure. She is a well-recognized expert in cancer survivorship and the effect of lifestyles changes on the risk for cancer recurrence and the development of new secondary cancers. Moreover, she has worked extensively on health disparities, access to care in minority populations, and chronic diseases prevention in the underserved.
Language
Position
DIRECTOR, INSTITUTE FOR TRANSLATIONAL EPIDEMIOLOGY, PROFESSOR | Population Health Science and Policy, PROFESSOR | Thoracic Surgery
Research Topics
Biostatistics, Cancer, Epidemiology, Healthcare, Lung, Obesity, Personalized Medicine, Public Health, Thyroid, Translational Research