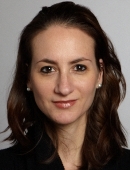 Emily Bernstein, PhD
About Me
Education & Certifications
Awards
Research
Locations
Publications
About Me
Emily Bernstein, PhD, Professor of Oncological Sciences and Dermatology, is Co-leader of the Cancer Mechanisms Research Program at The Tisch Cancer Institute. As such, Dr. Bernstein facilitates basic research on genetic, epigenetic, biochemical, and developmental pathways that drive cancer initiation and progression, and fosters intra- and inter-program collaborations that accelerate the development of novel, targeted therapies for cancer.
Dr. Bernstein studies epigenetic regulation of gene expression in cancer and development, with the long-term goal of understanding the chromatin changes that take place at the molecular level during the transformation process of normal cells to cancer cells. Her team studies melanoma, breast cancer, and neuroblastoma.
Dr. Bernstein regularly teaches courses on cancer biology and serves on numerous PhD thesis committees at the Icahn School of Medicine at Mount Sinai. She is permanent member of the Cancer Genetics Study Section of the NIH Center for Scientific Review and serves as a reviewer for additional grant foundations.
Language
Position
PROFESSOR | Oncological Sciences, PROFESSOR | Dermatology
Research Topics
Cancer, Chromatin, Epigenetics, Gene Regulation, Molecular Biology, Stem Cells
Multi-Disciplinary Training Areas
Cancer Biology [CAB], Development Regeneration and Stem Cells [DRS]