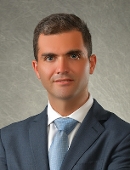 Video Visit Available
Accepting New Patients
Mount Sinai Doctors
Accepting New Patients
Enrique R Perez, MD, MBA
Ear, Nose, Throat (ENT) / Otolaryngology
Book an Appointment
About Me
Clinical Focus
Education & Certifications
Locations
Insurance
Patient Experience Rating
Industry Relationships
About Me
Dr. Enrique R. Perez is an Assistant Professor in the Department of Otolaryngology at the New York Eye and Ear Infirmary of Mount Sinai and Director of Otology at The Mount Sinai Hospital, Icahn School of Medicine. He received his medical degree from the University of Miami Miller School of Medicine and a master in healthcare business administration from the University of Miami Business School. Subsequently, he completed his residency in Otolaryngology-Head and Neck Surgery at the Mount Sinai Hospital. Dr. Perez went on to pursue fellowship training in Neurotologic-Skull Base Surgery at the renown University of Miami Ear Institute. He is also a graduate of the Institute for Cochlear Implant Training (ICIT) course, taught by preeminent leaders in the field of cochlear implants.
In addition to general head and neck surgery, Dr. Perez's clinical expertise includes medical and surgical management of adult and pediatric hearing disorders, cochlear implantation, endoscopic middle ear surgery for chronic otitis, otosclerosis, vestibular and balance disorders, facial nerve disorders, benign and malignant tumors of the lateral skull base, Neurofibromatosis Type II, cerebrospinal fluid (CSF) otorrhea and temporal bone encephalocele repairs. Dr. Perez is part of a multidisciplinary skull base team at the Mount Sinai Hospital with a focus in providing outstanding care for complex lateral skull base pathology.
Dr. Perez's current research interests include development of novel contrast-enhanced microscopic and endoscopic surgical techniques for acoustic neuroma/vestibular schwannoma and cholesteatoma surgery, respectively. He is also focused on translational research on hearing preservation cochlear implantation, including the use of intraoperative electrocochleography, therapeutic hypothermia and steroid-eluting hybrid implants to minimize implantation trauma. Having a background in healthcare economics, Dr. Perez is also interested in cost effectiveness analysis in management of otologic and neurotologic disorders. He has co-authored numerous textbook chapters and published manuscripts in peer-reviewed journals in otolaryngology, neurotology and neurosurgery. He is an active participant at meetings for the American Neurotologic Society, American Cochlear Implant Alliance, Triological Society, North American Skull Base Society, and the American Academy of Otolaryngology-Head and Neck Surgery.
Together with colleagues in the Division of Otology and Neurotology at Mount Sinai, Dr. Perez is committed to providing exceptional patient centered care. He is available for short-notice and same-day consultations for patients with hearing, vestibular-balance, and lateral skull base disorders.
Read his article, "What You Need to Know About Cholesteatoma" here.
Language
Position
ASSISTANT PROFESSOR | Otolaryngology
Hospital Affiliations
Mount Sinai Morningside
Mount Sinai Beth Israel
The Mount Sinai Hospital
New York Eye and Ear Infirmary of Mount Sinai
Mount Sinai West