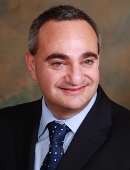 Erik T Goluboff, MD
About Me
Education & Certifications
Awards
Research
Locations
About Me
Dr. Erik Goluboff is an Attending Physician in the Department of Urology at Mount Sinai Beth Israel Medical Center and Professor of Urology at Icahn School of Medicine at Mount Sinai. He earned an MBA at NYU's Stern School of Business, with specializations in corporate finance, financial instruments, and management. Previously, he was Director of Urology at New York-Presbyterian Hospital/The Allen Pavilion and a Professor of Clinical Urology at Columbia University College of Physicians and Surgeons. Dr. Goluboff is a board certified urologist and a Magna Cum Laude, Phi Beta Kappa graduate of Columbia College of Columbia University and an Alpha Omega Alpha graduate of the Johns Hopkins University School of Medicine. He completed a year of general surgical residency at Johns Hopkins, followed by surgery and urology residency training at Columbia. He also completed a urologic oncology fellowship at Columbia, sponsored by a Ferdinand C. Valentine Fellowship from the New York Academy of Medicine and a Young Investigator Award from the American Society of Clinical Oncology. During this fellowship, he had additional training in the diagnosis and surgical treatment of urologic cancers such as prostate, bladder, kidney, penis and testis.Dr Goluboff is a fellow of the American College of Surgeons.
Dr. Goluboff has won many awards during almost two decades in urology, including the Young Investigator Award from the National Kidney Foundation, First Prize Laboratory Investigation-Valentine Essay Contest New York Academy of Medicine, Honorable Mention- Valentine Essay Contest New York Academy of Medicine, and a Pfizer Scholar in Urology Award (twice). He has performed over 3000 surgeries including over 1000 radical prostatectomies for prostate cancer, either by the open or robotic approaches. Dr. Goluboff has authored over 150 papers (of which a few are listed below) and participated in many clinical trials for new drugs for urologic disorders.
Dr. Goluboff is dedicated to the rational, efficient, and compassionate care of patients with urologic disease.
For more information please visit Dr. Goluboff's LinkedIn page and/or follow him on Twitter.
LinkedIn: www.linkedin.com/in/erikgoluboff/
Twitter: @GoluboffMD
Language
Position