Profiles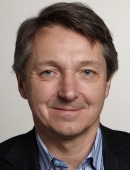 Erwin P Bottinger, MD
About Me
Education & Certifications
Research
Locations
Publications
About Me
Language
Position
PROFESSOR | Medicine, Nephrology, PROFESSOR | Pharmacological Sciences
Research Topics
Apoptosis/Cell Death, Bioinformatics, Cell Biology, Diabetes, Fibrosis, Genomics, Growth Factors and Receptors, Kidney, Knockout Mice, Signal Transduction
About Me
Language
Position
PROFESSOR | Medicine, Nephrology, PROFESSOR | Pharmacological Sciences
Research Topics
Apoptosis/Cell Death, Bioinformatics, Cell Biology, Diabetes, Fibrosis, Genomics, Growth Factors and Receptors, Kidney, Knockout Mice, Signal Transduction
About Me
Language
Position
PROFESSOR | Medicine, Nephrology, PROFESSOR | Pharmacological Sciences
Research Topics
Apoptosis/Cell Death, Bioinformatics, Cell Biology, Diabetes, Fibrosis, Genomics, Growth Factors and Receptors, Kidney, Knockout Mice, Signal Transduction
Education
, Nuremberg General Hospital, University of ErIangen-Nuremberg
, Cabrini Medical Center
, Massachusetts General Hospital and Harvard Medical School
, National Cancer Institute, National Institutes of Health
MD, Friedrich-Alexander Universitat School of Medicine, Erlangen-Nurember
Research
Millions of Americans are affected with chronic diabetic and non-diabetic kidney diseases that cause kidney failure (end stage renal disease). When kidneys fail, the average life expectancy is just over two years and survival depends on costly and disabling dialysis or transplantation treatments.
State-of-the-art genomics and bioinformatics approaches are used to discover and characterize new molecular targets and pathways associated with apoptosis, transdifferentiation, and fibrogenesis in specialized renal cells exposed to diabetic and other stresses. TGF-beta signaling pathways and targets are a major theme because TGF-beta is a key mediator of these processes.
Model systems used include renal cell culture and mouse models of diabetic and non-diabetic progressive renal disease. A new genomic medicine program aims at identification and validation of molecular biomarkers that predict progressive kidney disease in humans.
Publications
Selected Publications
Implementation and evaluation of personal genetic testing as part of genomics analysis courses in German universities.

Tamara Slosarek, Susanne Ibing, Barbara Schormair, Henrike O. Heyne, Erwin P. Böttinger, Till F.M. Andlauer, Claudia Schurmann.

BMC Medical Genomics

Genetic insights into resting heart rate and its role in cardiovascular disease.

Yordi J. van de Vegte, Ruben N. Eppinga, M. Yldau van der Ende, Yanick P. Hagemeijer, Yuvaraj Mahendran, Elias Salfati, Albert V. Smith, Vanessa Y. Tan, Dan E. Arking, Ioanna Ntalla, Emil V. Appel, Claudia Schurmann, Jennifer A. Brody, Rico Rueedi, Ozren Polasek, Gardar Sveinbjornsson, Cecile Lecoeur, Claes Ladenvall, Jing Hua Zhao, Aaron Isaacs, Lihua Wang, Jian'an Luan, Shih Jen Hwang, Nina Mononen, Kirsi Auro, Anne U. Jackson, Lawrence F. Bielak, Linyao Zeng, Nabi Shah, Maria Nethander, Archie Campbell, Tuomo Rankinen, Sonali Pechlivanis, Lu Qi, Wei Zhao, Federica Rizzi, Toshiko Tanaka, Antonietta Robino, Massimiliano Cocca, Leslie Lange, Martina Müller-Nurasyid, Carolina Roselli, Weihua Zhang, Marcus E. Kleber, Xiuqing Guo, Henry J. Lin, Francesca Pavani, Tessel E. Galesloot, Raymond Noordam, Erwin P. Bottinger.

Nature Communications

A machine learning approach to determine resilience utilizing wearable device data: analysis of an observational cohort.

Robert P. Hirten, Maria Suprun, Matteo Danieletto, Micol Zweig, Eddye Golden, Renata Pyzik, Sparshdeep Kaur, Drew Helmus, Anthony Biello, Kyle Landell, Jovita Rodrigues, Erwin P. Bottinger, Laurie Keefer, Dennis Charney, Girish N. Nadkarni, Mayte Suarez-Farinas, Zahi A. Fayad.

JAMIA Open