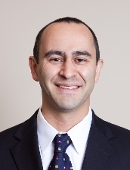 Mount Sinai Doctors
Accepting New Patients
Eugene Bulkin, MD
Rehabilitation and Physical Medicine
No Patient Experience Ratings
Book an Appointment
About Me
Clinical Focus
Education & Certifications
Locations
Insurance
Industry Relationships
About Me
Dr. Bulkin is a board-certified, fellowship-trained Spine Specialist at the Spine Center at The Mount Sinai Hospital. His areas of expertise include diagnosis, evaluation, and non-surgical treatment of spine-related conditions.
Upon completing his residency in Physical Medicine and Rehabilitation at Rusk Institute (NYU), Dr. Bulkin underwent specialized training in minimally invasive interventional procedure of the spine while completing his fellowship at The Spine Institute of New York at Beth Israel Medical Center.
In 2013, Dr. Bulkin joined the team of faculty in Mount Sinai's Department of Orthopedic Surgery at the renowned Spine Center at The Mount Sinai Hospital. He is an Assistant Professor of Orthopedic Surgery and is dually appointed in the Department of Orthopedic Surgery and the Department of Rehabilitation and Human Performance at the Icahn School of Medicine at Mount Sinai.
Dr. Bulkin has more than ten years of specialized experience in treating spine conditions with interventional procedures and non-operative rehabilitation. He treats a wide range of spine conditions, including neck and back pain, herniated discs and arthritis, as well as sciatica and pinched nerves. His patient-centric approach to care is designed to improve and restore function while considering a patient's individual goals.
In many cases, minimally invasive spine procedures result in therapeutic pain relief and can provide diagnostic information to help determine if and what future treatment is needed for achieving the best possible results.
Among the most commonly performed procedures are fluoroscopically (x-ray) guided epidural steroid injections of cervical, thoracic and lumbar spine, facet joint injections, sacroiliac joint injections, nerve blocks, radiofrequency neurotomy and peripheral joint injections (hip, knee, shoulder). Dr. Bulkin also performs PRP (platelet-rich-plasma) treatments.
Dr. Bulkin believes that patient education is equally as important as the clinical treatment for maintaining pain- free, long-term spine health. A comprehensive treatment program is generally comprised of physical rehabilitation with a certified physical therapist along with a home exercise program.
While Dr. Bulkin prefers non-operative treatments of spine conditions, he has vast experience in identifying conditions that require surgical intervention. At Mount Sinai's Spine Center, Dr. Bulkin is part of a multidisciplinary team of experts, which include spine surgeons that can address any surgical needs.
Dr. Bulkin is board-certified and is a Diplomat of The American Board of Physical Medicine and Rehabilitation.
Conditons:
Herniated lumbar disc
Herniated cervical disc
Pinched nerve
Sciatica
Facet syndrome
Sacroiliac jointpain
Back pain
Neck pain
Lumbar spondylosis
Cervical spondylosis
Treatments:
Fluoroscopically (X-ray guided) guided procedures of the Lumbar, Thoracic and Cervical Spine
Selective Nerve Block
Epidural Injections
Facet Joint injections
Sacroiliac Joint Injections
Medial Branch Blocks
Radiofrequency Ablation of Medial Branches (denervation of Facet joints)
PRP injections (Platelet-Rich Plasma)
Language
Position
ASSISTANT PROFESSOR | Orthopedics, ASSISTANT PROFESSOR | Rehabilitation and Human Performance
Hospital Affiliations