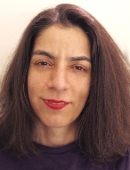 Farzaneh A Nabizadeh, MD
About Me
Awards
Locations
Publications
Patient Experience Rating
About Me
Farzaneh Nabizadeh, MD, is a faculty attending physician in the Department of Obstetrics and Gynecology at Mount Sinai West and Mount Sinai Morningside. In addition, she is an Assistant Professor of Obstetrics, Gynecology and Reproductive Science at the Icahn School of Medicine at Mount Sinai. Dr. Nabizadeh is an experienced, board-certified obstetrician-gynecologist. Her skills and interests encompass the full range of obstetrics and gynecology. She attends births in Mount Sinai West's Labor and Delivery Suite. Also, she is an excellent gynecologic surgeon, practiced in many minimally-invasive procedures.
Before joining Mount Sinai, Dr. Nabizadeh spent six years in private practice at the Reliant Medical Group in Worcester, Massachusetts. During her time in Worcester, she also was Director of Medical Education in the Department of Obstetrics and Gynecology at Saint Vincent Hospital, and an associate clinical professor at the University of Massachusetts School of Medicine and the Ross University School of Medicine.
Dr. Nabizadeh earned a Bachelor of Science in biochemistry from the University of Ottawa. She received her medical degree from St. George's University School of Medicine, in Grenada. After medical school she worked as a research coordinator at Columbia University, studying osteoporosis, with her work being published in peer-reviewed medical journals. She then entered the Obstetrics and Gynecology Residency Program at New York Downtown Hospital, graduating in 2008.
Dr. Nabizadeh's life as an obstetrician-gynecologist has included formal awards for the teaching of residents and medical students, as well as research into women's health, including a paper on hydrothermal endometrial ablation, a minimally invasive alternative for uterine fibroids. She also has an impressive history of medical volunteerism: she has worked with Doctors Without Borders since 2012; visited Guatemala with Surgicorp in 2015; and, in Worchester, provided free medical care at a local church-run clinic.
Dr. Nabizadeh is a Fellow of the American College of Obstetricians and Gynecologists. She speaks English, German, Farsi, and beginner French.
Language
Position
ASSISTANT PROFESSOR | Obstetrics, Gynecology and Reproductive Science