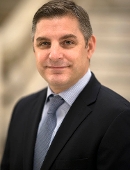 Gabriele Di Luozzo, MD
About Me
Awards
Locations
Patient Experience Rating
About Me
Gabriele Di Luozzo, MD is board-certified by the American Board of Thoracic Surgery and is specialized in all aspects of Adult Cardiac Surgery and Thoracic Aortic Surgery. Dr. Di Luozzo was Dr. Randall B. Griepp's associate, a pioneer in the field of cardiac and aortic surgery, for 8 years at Mount Sinai Medical Center. Dr. Di Luozzo is Dr. Griepp's last pupil and has been committed to preserving his mentor's legacy in the field of aortic surgery. He is one of a handful of cardiac surgeons in the Northeast that is fellowship trained in aortic surgery, management of connective tissue disorders, aortic valve disease, complex aortic dissections and re-operative cardiac surgery. He is trained and very experienced in endovascular approaches for aortic aneurysms and dissections, and most recently in TAVR.
In addition to his clinical practice he is one of a handful of cardiac surgeons to have directed a NIH-funded large animal laboratory that performs research on ways to minimize the risk of spinal cord and brain injury after thoracic aortic aneurysm repair. He continues to contribute to the medical literature with original research and has presented at many national and international cardiothoracic surgical meetings. He has authored several book chapters and articles in peer-reviewed journals on aortic root, arch, and thoracoabdominal aortic aneurysms, reoperative cardiac surgery, aortic dissections and protective measures to prevent paraplegia after thoracic aortic surgery. The laboratory research he now directs has shed light on the anatomy and blood supply to the spinal cord and methods to minimize the risk of paraplegia. Dr Di Luozzo participates in the peer review process as a reviewer for prestigious medical journals. His laboratory recently received a $600,000 grant to study the molecular mechanism in the arterioles found in the paraspinous muscle in response to a reduction in spinal cord blood flow.
His practice and clinical research has focused on various aortic conditions including aortic dissections (Type A and B), ascending aortic aneurysms, aortic arch aneurysms, chronic aortic dissections, thoracoabdominal aortic aneurysms, bicuspid aortic valve and connective tissue disorders such as Marfan syndrome and Loey-Dietz syndrome. He has specialized in aortic valve-sparing root replacements (David Procedure), aortic arch replacement, thoracoabdominal aortic aneurysm repair, endovascular thoracic aneurysm repair, high-risk cardiac surgery and re-operative cardiac surgery. In addition, he has a focus on aortic valve replacement either through traditional surgery or transcatheter approach (TAVR). He has significant experience with managing patients with endocarditis, graft infections and complex aortic infections.
He has successfully maintained one of the largest thoracic aortic surveillance programs, which includes over 1,300 patients. The information that has been gained from following such a large number of patients with thoracic aortic aneurysms and dissections has made important contributions to the guidelines on how physicians manage aortic aneurysms. As a member of the cardiothoracic team at Mount Sinai Morningside Hospital he leads the Thoracic Aortic Aneurysm Program and Aortic Surveillance Program, which includes a multi-disciplinary team with a large armamentarium to treat a variety of aortic conditions. He is an associate of the Julius H. Jacobson Complex Aortic Disease Center in the Mount Sinai Healthcare System.
Language
Position
ASSOCIATE PROFESSOR | Cardiovascular Surgery