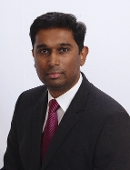 Video Visit Available
Accepting New Patients
Mount Sinai Doctors
Accepting New Patients
Ganesh Gunasekaran, MD
Surgery
No Patient Experience Ratings
Book an Appointment
About Me
Clinical Focus
Education & Certifications
Awards
Locations
Insurance
Publications
Industry Relationships
About Me
As Section Chief of Hepatobiliary Surgery, Dr. Ganesh Gunasekaran is responsible for leading the clinical and academic efforts of the hepatobiliary section of the Division of Surgical Oncology. Dr. Gunasekaran developed and supervises the improvement of the hepatobiliary program at all sites within the Department of Surgery at Mount Sinai Health System.
Dr. Ganesh Gunasekaran graduated from Madras Medical College in India. He completed his residency in general surgery at Montefiore Medical Center in New York and subsequently completed his fellowship in multi-organ transplant and hepatobiliary surgery at the Cleveland Clinic Foundation in Ohio. Since then, Dr. Gunasekaran has devoted his career to the field of hepatobiliary/pancreatic surgery and liver transplantation. He was part of the faculty at the Westchester Medical Center and joined the faculty at Mount Sinai Hospital as an Attending in 2014.
Dr. Ganesh Gunasekaran is a national leader in hepatobiliary and pancreatic surgery. He has been an integral part of the team at the Mount Sinai Liver and Pancreatic Cancer Program. This program is at the forefront in liver and pancreatic cancer clinical care as well as clinical/translational research worldwide. Dr. Gunasekaran has served in various committees of renowned national and international organizations to improve the field of hepatobiliary and transplant surgery. He is regarded highly in the international community given his expertise on liver and pancreatic surgery, a subject which he lectures frequently on in both the United States and globally. He has also authored and co-authored multiple peer-reviewed publications on various aspects of Hepatobiliary and Transplant surgery. Both a renowned surgeon and an active researcher, Dr. Gunasekaran oversees various clinical trials investigating new treatments for liver, pancreatic, and biliary tract tumors. He has also mentored numerous surgeons across the world who now lead the field of hepatobiliary and transplant surgery.
Dr. Ganesh Gunasekaran has served as a multi organ transplant and hepatobiliary- pancreatic surgeon to address the complex demands of patients with end organ failure and malignancy. Over the years, he focused more towards the management of patients with liver, biliary tract and pancreatic tumors. Dr. Ganesh Gunasekaran has collaborated with surgeons from different parts of the world and performed surgeries in different continents to create an impact on the training process and improve the quality of health care.
Language
Position
ASSOCIATE PROFESSOR | Surgery
Hospital Affiliations
Mount Sinai South Nassau
Mount Sinai Morningside
Mount Sinai Beth Israel
Mount Sinai Brooklyn
Mount Sinai Queens
The Mount Sinai Hospital
New York Eye and Ear Infirmary of Mount Sinai
Mount Sinai West